Hill Workout to Strengthen Legs and Build Endurance
Trail Running Treadmill Workout: Hill Repeats
The changing weather of Fall inspired me to hit the wooded trails near my house, and the steep inclines inspired me to do hill repeats. They're great for strengthening the legs, as well as building speed and endurance. If hilly terrain is hard to come by in your neck of the woods, try this version on a treadmill instead. This workout is moderately paced so feel free to speed up or slow down, depending on your ability and mood.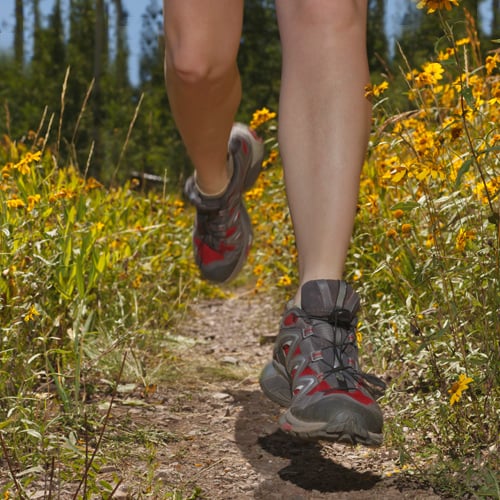 The workout includes five minutes each of warming up and cooling down and burns about 330 calories. If you're running outside, ignore the hill percent listed below and just run up a steep hill. It may take you longer than a minute, depending on the length and grade of the ascent, but choose a hill that takes about a minute to reach the top. Work on running up it as fast as you can. Then, turn around and run down the hill (which might take more or less than one minute).
If you're using the treadmill, pump up the incline to as high as it will go (some don't go all the way up to 15 percent), or as high as you feel comfortable. Slow down your pace if it feels too intense, but try to keep the incline high for the entire minute. You may be huffing and puffing and have burning by the end of the minute, but stay with it and remember that you'll have 60 seconds to recover.
*All calculations are based on a 130-pound woman.
Time

Incline

Pace
(mph)

Calories
Burned

00:00-05:00

0%

4.0 (15 min/mile)

20

05:01-15:00

0% (or flat trail)

6.0 (10 min/mile)

90

15:01-16:00

15% (or steep hill outside)

5.0 (12 min/mile)

13

16:01-17:00

0% (or run back down the hill)

6.0

9

17:01-18:00

15%

5.0

13

18:01-19:00

0%

6.0

9

19:01-20:00

15%

5.0

13

20:01-21:00

0%

6.0

9

21:01- 22:00

15%

5.0

13

22:01- 23:00

0%

6.0

9

23:01-24:00

15%

5.0

13

24:01-25:00

0%

6.0

9

25:01-35:00

0%

6.0

90

35:01-40:00

0%

4.0

20
This workout is all about quick and steep hills to tone your lower body and build speed and endurance. If you're itching for more workouts involving inclines, check out this rolling hills treadmill workout.