History of Women Boston Marathon
Special Events Mark the 40th Anniversary of Boston Marathon's First Women's Race
This year's Boston Marathon is special to us because it marks the 40th anniversary of women officially being allowed to compete. It was 1972 when Nina Kuscsik (bib number F2) became the first official female winner, beating the other seven women who started and finished the race that day. To mark the anniversary, Nina and four members of the pioneering "Class of 1972" will be the starters of this year's Boston Marathon women's race. These five women, along with Bobbi Gibb (the first female to unofficially win the Boston Marathon), will also be honored at the marathon expo and annual Champions' Breakfast the Saturday before the April 16 marathon takes place.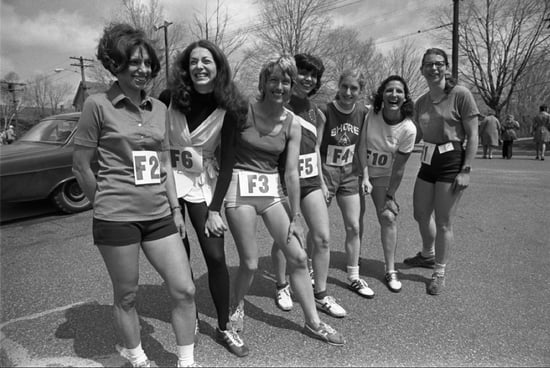 Seven of the eight women who make up the "Class of 1972"
In 1966, Roberta "Bobbi" Gibb was the first woman to run the full Boston Marathon. Her time: 3:21:40. She was a "bandit runner" and did not have an official bib or entry, so she hid in the bushes and joined the pack late. Roberta continued to run the marathon each year without a bib, and is recognized by the Boston Athletics Association as the pre-sanctioned era women's winner in 1966, 1967 (3:27:17), and 1968 (3:30:00).
Kathrine Switzer tried a different technique in 1967. She officially entered the race ambiguously as K.V. Switzer, bib 261. When Boston Marathon officials realized Kathrine wasn't a man, race codirector Jock Semple unsuccessfully tried to run her down and forcibly take her bib. Luckily, Kathrine's then-boyfriend, Tom Miller, who was also running in the race, pushed Jock to the ground to ensure Kathrine could continue running. Her finishing time: 4:20:00. Kathrine would later make up part of the famous "Class of 1972," placing third in the first official women's race (bib number F6).
After tirelessly crusading and years of "unofficial" competing, it wasn't until 1972 that women were allowed to officially run the Boston Marathon, but Jock didn't make it easy. In order to compete, women had to meet the same qualifying time as the men: 3:30:00. Only eight women qualified that year.
The current course record for women is 2:20:43, run by Margaret Okayo of Kenya in 2002.
In 2011, 43 percent of Boston Marathon participants were women. We'll be reporting straight from the marathon this year and hope the number is even bigger this time around!
Source: The Boston Marathon