If Snowmaggadon is interfering with your runs, you're going to have to move your cardio inside — and this does't have to mean "treadmill time." With the right moves, you can get your heart rate up in the privacy of your living room. Here are some of my fave at-home cardio moves.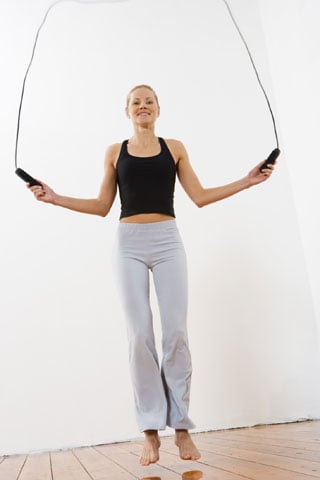 Small sprints: think of these like mini killers.
Jumping jacks: a classic move known for elevating your heart rate.
Jump rope: if you don't have a rope, jump with a pretend one.
Skipping: this childish form of locomotion is great for your legs and heart rate.
Mountain Climbers: like running in place while in the plank position.
See the rest of my heart thumping moves.
You can design a workout mixing up these elements. Alternate exercises every 30 to 60 seconds. Add some strength training moves, and you'll have a circuit.
If you have an easy at-home cardio move you'd like to share, tell us all about it in the comment section below.