Home Gym Essentials That Don't Take Up Too Much Space
Home Gym Basics No Matter How Small Your Space
I like things easy. And easy means a convenient way to stay fit but doesn't take too much time out of my day. Easy solution? A home gym. What's not to love — all the equipment you need to stay fit, no gym membership required.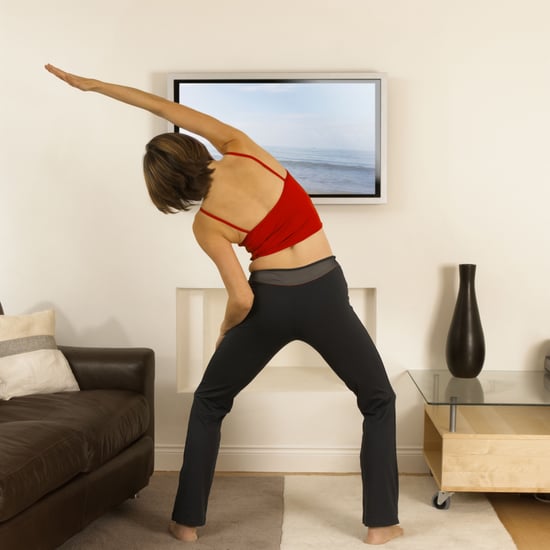 It's hard, however, to keep a home gym as equipment-ready as your neighborhood gym if you don't have the space (or the money). Luckily, just a few basics are all you need for a full-body workout. No matter how much space you have, read on to find out what you should have to outfit your home gym.
Exercise ball. This will take up the most space, but trust me, it's also one of the most versatile pieces of gym equipment you can own. Work your whole body with just a stability ball. Check out this video for two advanced moves that work your abs (no crunches required) and backside, and after you're done, relax your back with this spinal twist move. But before you buy, make sure you get the right size for your body; use these guidelines to find a fit.
Read on for more home gym basics after the break.
Resistance band. Don't resist the resistance band. The fitness tool is practically the only thing you need to keep those muscles strong. And best of all, it packs up small, so you can take yours along with you on your next vacation for an effective hotel-room workout. Ready to tone? Try these five resistance band moves that target different areas of the body, like strengthening ankles, toning upper arms, and whittling inner thighs.
Small weights. Add an extra oomph to any of your workouts with some dumbbells. They are good for quick, isolated strength moves that you can do anytime, whether you're watching TV or focusing on your workout. Just make sure to warm up first and keep proper form. Also, if you only have room for a pair of dumbbells, choose weights that will make you reach muscle fatigue.
Jump rope. Jumping rope is such an effective form of cardio. If you don't have time to go on a run, bust out this schoolyard favorite: you can burn 132 calories in just 10 minutes.
Yoga mat. A high-quality mat can protect you from your hard floor or help stabilize you if you've got carpet. Get on the mat for a few quick yoga poses, push-ups, Pilates moves, then roll it away and out of sight until next time.
Fitness DVDs. Having a good selection of different workouts in your DVD collection is like having a super-motivated workout buddy right in your house. For those days where you are too busy or just not feeling it, popping in a DVD can save you from forgoing your workout.
What are your home gym essentials?