Home Remedies That Work
Food Cures For Common Ailments
I have friends who are all about popping pills to ease their ills. Advil for sore knees, Tylenol for headaches, and Prilosec for heartburn. I'm not dissing these medications because they definitely serve their purpose in making you feel better, but if you're more into the natural route, here are some foods that are proven to have medicinal powers.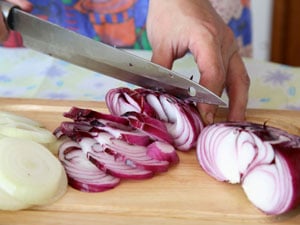 Asparagus: As a natural diuretic, asparagus has been consumed for inflammation-related issues such as menstrual bloating and arthritis. It's in season now, so pick some up and enjoy it steamed or grilled.
Lemon balm: This lemon-scented member of the mint family is used to banish anxiety and stress, boost memory, and aid in sleep and digestion. To feel its calming effects, sip lemon balm tea.
Onion: Although they're known to cause bad breath, it's worth it when you find out this veggie reduces diabetes symptoms and protects against cardiovascular disease. Also prevents inflammation caused by allergies, protects against stomach ulcers, and colon, esophageal, and breast cancers. Add red or yellow onions to dishes, eating them raw or lightly cooked for the most benefit.
Grapes: If you're having issues with constipation, boil 10 grapes in six ounces of milk. Before bed, drink the milk separately and then eat the grapes.
Learn about three more medicinal foods when you
.
Cayenne: This spice contains capsacin, which eases muscle aches, postoperative discomfort, and arthritis. New research shows it may also aid in weight loss. Add fresh chili peppers or powdered cayenne to recipes to add a little kick and to reap the pain-relieving benefits.
Apple cider vinegar: If you suffer from sore muscles post-workout, give some vinegar a try. Saturate a cloth with apple cider vinegar and wrap it around the muscle for 20 minutes; the pain should disappear within a few hours. Reapply every three to four hours for continued relief until the pain is gone for good.
Parsley: If you have issues with recurrent urinary tract infections (UTIs), parsley is proven to "increase urine output." If you have a UTI, try drinking three cups of parsley tea a day. When I was dealing with this issue in the past, I put parsley in my green tea with toasted rice and couldn't even taste the parsley.