At Home Yoga Workouts With YogaGlo
Get Glowing With YogaGlo
In my little utopia, I'd have a little sunny yoga deck off my bedroom where a personal yoga instructor would help me with my practice in privacy. Sadly that is not my reality, but I have found a pretty darn good substitute. It may not provide the sunshine, but YogaGlo does just about everything else.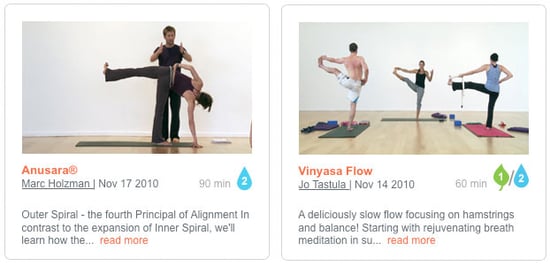 Branded as "everyone's yoga," YogaGlo offers something for everyone — without all the boredom that some find in DVDs. For $18 a month, which is about the going rate for one studio class, subscribers can pick from over 600 classes. Unlike my local gym, which only offers a few versions of 55-minute classes, YogaGlo serves up sessions for folks who have five minutes, 15 minutes, 45 minutes, or 210 minutes. And it's not just basic yoga. Anusara, Hatha, Kundalini, and Yin are just a few of the versions offered at beginner, intermediate, and advanced levels.
Want to learn more about it?
If you don't know what type of yoga suits you, you can test the waters or even pick based on your needs. Perhaps a hip opener, core strengthening, or arm balancing exercise is in your future. No problem — they've got it. When you've been on long enough, you can tell which teachers are a fit for you and you can stick with their classes. When you have decided which class is right for you for that day, it's simple enough to hit play on your computer or even hook it up to your high-def TV.
Sounds almost too good to be true, right? If you're intrigued but not sold on the idea, you can give it a 15-day trial run for free. Unfortunately, YogaGlo can't take care of the sunshine aspect of my utopia, but lucky for me, San Francisco has been lending a helping hand.