Hot Dogs Unhealthy as Cigarettes, Doctors' Group Says
Eating Hot Dogs Is as Unhealthy as Smoking Cigarettes, Says Doctors' Group
We know hot dogs aren't the healthiest food on the grill, but The Physicians Committee for Responsible Medicine, a Washington DC group that promotes preventive medicine and a vegan diet, is implying with a new billboard advertisement that the dangers of hot dogs are as risky as smoking.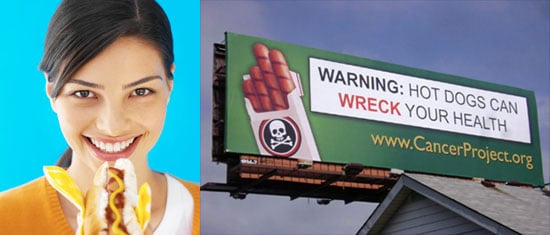 The billboard, located near the Indianapolis Motor Speedway, shows a picture of hot dogs encased in a cigarette pack with the slogan: "Warning: Hot dogs can wreck your health." The billboard's location is no fluke since races at the Indianapolis Motor Speedway encourage hot dog consumption — 1.1 million hot dogs were sold during last year's Indy 500. The doctors' group believes that hot dogs should come with a warning label, just like a pack of cigarettes, to let people know that consuming processed meats can increase a person's risk of developing colorectal cancer. High in sodium, a diet full of hot dogs can also lead to high blood pressure and heart disease, says the group.
The group's registered dietitian believes, "A hot dog a day could send you to an early grave," and has research to back the claim up. A 2007 report by the American Institute for Cancer Research showed that consuming 1.7 ounces of processed meat (about the amount in one hot dog) per day can increase the risk of colorectal cancer by 21 percent. Every year, about 143,000 Americans are diagnosed with colorectal cancer and approximately 53,000 die of it. Consuming processed meats such as hot dogs, deli meats, and (gasp!) the beloved bacon are linked to other types of cancer as well including prostate, leukemia, and ovarian cancer, as well as diabetes.
Source: The Physicians Committee for Responsible Medicine and Thinkstock