How to Avoid Acne Breakouts When Working Out
How to Keep Post-Gym Skin Clear and Blemish-Free
You think you're doing your body good by going to the gym every day, yet your skin is telling you otherwise. If you struggle to keep your skin clear, here are some tried-and-true solutions to help you keep your skin as radiant and healthy as your body.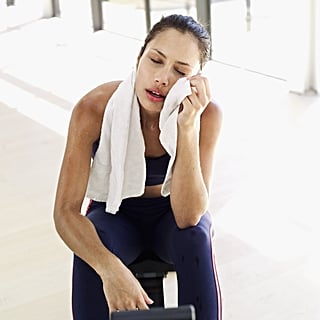 Use an oil-absorbing sheet. If you tend to work out in the afternoon, blot your face with an oil-absorbing sheet preworkout to remove excess oils. If you don't have a packet handy, use a clean toilet seat cover as an oil-absorbing sheet. It sounds strange, but it works the same way.
Wash your face pre- and post-workout. To avoid clogged pores and acne, remove the makeup off your face before working out as well as wash the salty sweat off your skin after working out.
Bring towelettes with you. Save time and your face from breakouts by using cleansing towelettes.
See more skin solutions here.
Cover equipment with a clean towel. Gym equipment and mats are a nightmare for the face, because they are usually coated in germs, sweat, and grime. To avoid transferring anything onto your face, simply use a clean towel to cover gym equipment or mats that your forehead, cheeks, or chin rest on.
Avoid touching your face. Hands are dirty too, especially after handling weights or using communal equipment. Be sure to avoid wiping sweat away with your hands, and opt for a clean towel instead.
Wear moisture-wicking clothing. Prevent acne by wearing wicking fabrics that draw moisture away from the skin, allowing the skin to breathe and reducing the amount of clogged pores.
Shower immediately after your workout. Remove sweaty clothing as soon as you get home and jump into the shower. Try using a salicylic acid scrub on your chest, back, and face to exfoliate the skin and prevent breakouts.