How to Avoid Heat Exhaustion When Exercising
How to Prevent Heat Exhaustion During Outdoor Activities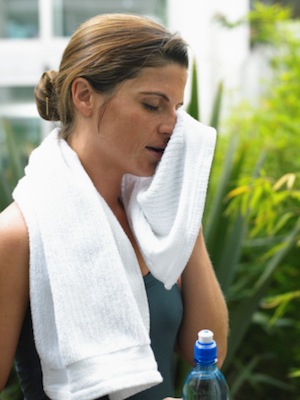 Heat exhaustion can come in all shapes in sizes, and with Memorial Day weekend just around the corner, it's good to exercise caution, as heat-related illnesses can affect us all when we least expect it.
According to the Korey Stringer Institute and the National Athletic Trainers' Association, you should allow time for heat acclimatization. What this means is that the duration and intensity of your physical activity should be nice and gradual so that your body can adjust to the temperature. Other quick tips to prevent any health illness before it becomes serious include:


Drinking lots of water before, during, and after your workouts to avoid dehydration. You should sip about four to eight ounces of water every 15 to 20 minutes. If your urine is darker in color, that could be an indication that you are dehydrated and need more fluids.
Try exercising during the cooler times of the day. Early in the morning and late in the evenings is when you can usually avoid the heat. If you are going for a run and the heat is inescapable, try running in shady places like the woods, or breezy places like the beach or along a lake.
Don't overdo it and take lots of breaks. It's important to stop whenever you feel tired or are overheating. For instance, after you complete the first half of a hike, walk, or run, take a break, eat a snack, drink some water, and then continue on.