How to Avoid Pain in Your Feet, Butt, Wrists, and Shoulders While Biking
Tips From the Saddle: Dealing With Discomfort While Biking
If you have spent any time in the saddle, and I am not talking horseback riding here, then you know biking can come with some specific discomforts. From your feet to your neck, here are simple on-the-bike tips to alleviate some of the aches and pains common to long rides. Let's start at the bottom and work our way up.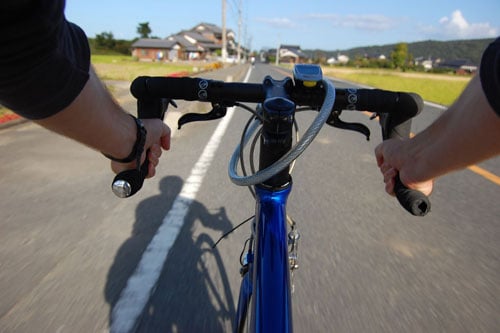 Feet: If the bottom of your feet go numb, focus on the upstroke. Pulling up on the pedal takes pressure off the soles of your feet. Obviously, this technique only works if you have a pedal/cleat system or cages on your pedals. Also, a little toe wiggling can go a long way.
Bum: Sometimes the padded chamois just isn't enough! For instant relief, stand up on your pedals and take a "booty" break. This takes pressure off of your sitz bones and focuses the work on different leg muscles — bonus. Also, play around with how you sit: roll forward of your sitz bones and flatten out your back, or try rounding your spine to roll behind those bony protuberances on the bottom of your pelvis. Don't just sit in one place.
Keep reading for more midride tips.
Back: Midride I like to do a cycling version of the yoga poses Cat and Cow. First, I arch my back (cow), then round my spine (cat). The trick is to keep your eyes on the road while moving your torso around. I also like shifting my spine from side to side to get some lateral motion between my vertebrae.
Wrists: Change your grip early and often by moving your hands around the handlebars. Grip lightly whenever you can, like during a long, slow, steady climb. Keeping your shoulders relaxed can actually help alleviate wrist pain.
Neck: Keeping your eyes focused on the road ahead can create serious neck and shoulder tension. Try shoulder shrugs to relax your upper trapezius. With your eyes still trained on the asphalt, bob your skull lightly on top of your spine nodding "yes" and shaking "no" — the movement will be small, but these micro movements will relax the small muscles at the base of the skull.
After your ride, you might want to make micro adjustments on your bike — from the the height of your saddle to the angle of your handlebars — to ensure that you next ride is even more comfy.
Flickr User ninja gecko