How to Avoid Weight Gain When Quitting Smoking
Avoid Putting On the Pounds When Giving Up the Smokes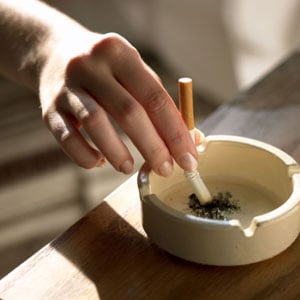 With all the health benefits to gain from giving up the smokes, the decision to quit is an easy one, but the follow-through can certainly be a challenge. Cravings brought on by nicotine withdrawal can be intense and one way distract yourself from the desire to light up is to eat, eat, and eat some more. That of course can lead to weight gain, so here are some tips on how to ditch the cancer sticks without busting out of your pants.
First and foremost, focus on quitting and don't worry so much about gaining weight. Smoking is much more of a risk than gaining a few extra pounds, so once you ditch the cigs for good, then worry about how you're going to lose the extra fluff.
To find out how to avoid gaining a hefty amount of weight,
.
When you quit, you may miss having something in your mouth, which is why many people end up reaching for food to munch on instead. This is a great way to keep your hands and lips busy, just be sure to choose wisely. Crunchy carrot and celery sticks, frozen grapes, cubes of cheese, air-popped popcorn, and even gum will give your mouth something to do without packing in too many calories. You can also go for calorie-free options. Sucking on a straw or toothpick may also satiate that need to have something in your mouth.
Instead of sticking to the three-meals-a-day plan, opt for smaller more frequent meals. This will keep hunger at bay, which will make you less likely to reach for unhealthy snacks or overeat. Food choices matter too, and ones that are high in protein and fiber will keep you feeling full longer. Also try to avoid alcohol. Cocktails, beer, and wine tend to be high in calories, and for some people, they trigger the urge to light up.
Keep busy with exercise. Smoking breaks take up a lot of time, so replace them with walks around the block or short strength-training sessions including push-ups, squats, and crunches. As little as five minutes of exercise has been shown curb nicotine cravings. Exercise also helps to naturally suppress your appetite, so the more you make exercise a part of your regular schedule, the less hungry you'll feel and the more calories you'll burn.
You may also benefit from an alternative therapy when it comes to quitting. Hypnosis, acupuncture, and meditation may be effective tools that help you quit faster.
If you have any other tips on how to quit smoking without going up a jeans size, share them in the comment section below.