How Being a Mom Improves Your Health
5 Ways Being a Mom Makes You Healthier
Just because you had a baby (or two, or three), it doesn't mean your health and body automatically get pushed aside. There are many ways being a mother can actually improve how you take care of yourself, and here are just a few.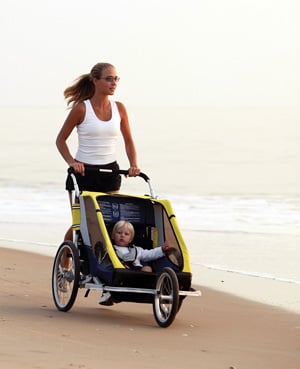 While prego, you change how you think about eating. It's no longer just about taste but about nourishing your growing baby. You think twice about skipping meals or eating cold pizza for breakfast. And if you're nursing, you want to eat healthy because whatever you eat passes into your breast milk.
After the baby is born, you exercise regularly to lose the baby weight, but all that working out also strengthens your muscles and immune system, makes your heart healthy, and helps you sleep better.
As a mom, you want to set a good example for your kids to live a healthy lifestyle. If they see you eating your broccoli and heading out for bike rides, they're more likely to grow up embracing the same healthy ways. Although the main reason you strive to be a positive role model is for the benefit of your kiddos, it ultimately helps you become healthier, too.
Outdoor time is essential for your kids, not only for the fresh air, but also for the change of scenery and the opportunity to get all their energy out. It encourages you to get outside, too, to go for walks, to pop them in their jogging stroller, to take family bike rides, or to just run around and play with them.
You love being a mom and watching your kids grow up. Since you want to be strong, healthy, and have enough energy to care for your children in the best way possible — and you also want to be around until they have kids of their own— you're inspired to take better care of yourself. Becoming a mom might help you quit smoking, get serious about losing weight, have your cholesterol checked, or even start training for a marathon.
How has being a mom made you a healthier person?