How to Boost Metabolism
4 Monday Metabolism Boosters
So you splurged a little too much over the weekend and skipped hitting your usual workouts. Don't let two days of bad choices turn into a weeklong of bad habits. Get back on track this Monday and incorporate these metabolism boosters.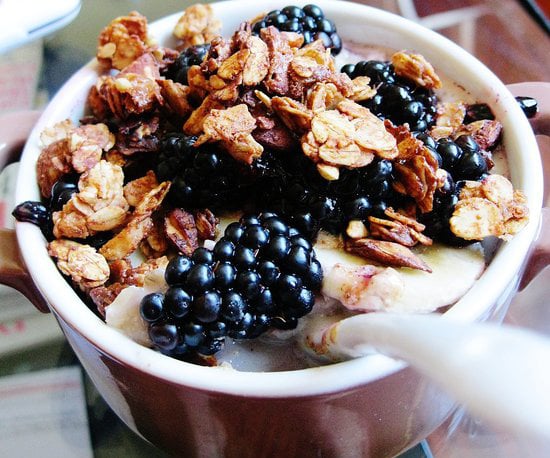 Whole grains for your timely breakfast: Skipping breakfast to make up for the extra calories consumed during a decadent Sunday brunch can actually slow your metabolism down, so be sure to eat a healthy meal first thing Monday morning. Eat it within an hour or so of waking to really get your metabolism going, and go for whole grains and citrus fruits. Sip on a cup of caffeinated coffee or green tea for an added boost.
Get snacky: Eating often throughout the day can keep your metabolism going so don't skip that morning snack to save room for an enormous lunch. Eat five or six smaller snacks or meals (every three to four hours) in place of the typical three meals a day.
Get spicy: Choose a lunch with a little extra kick to rev your metabolism. Foods containing hot peppers, garlic, turmeric, cloves, vinegar, and even cinnamon can help you burn extra calories. Try these spicy recipes.
Hour-long muscle-building workout: Recent research shows that an hour of exercise can change your DNA to make you stronger and boost your metabolism. You'll want to go for heart-pumping exercise because it can rev up your metabolism keep it up hours after your workout is over. Strength training workouts are also key since having more pounds of muscle also burns more calories. Put them all together and choose a 60-minute high-intensity workout that strengthens your muscles, such as walking up hills, running with speed intervals, or taking a cardio-strength training class. Be sure to drink lots of water since dehydration can interfere with your body's ability to burn calories. Aside from a soaring metabolism, an awesome Monday workout will also get you back to your regular exercise schedule for the rest of the week.