How to Not Be Bored on the Treadmill
No Headphones? 5 Ways to Entertain Yourself on the Treadmill
I love running on the treadmill, but let's be honest: it's not the most entertaining workout. I usually distract myself from counting down the minutes with a good playlist, audiobook, or tuning in to the gym's TVs. When I forget to take my running headphones, however, I have to entertain myself in an entirely different way. Here are some ways to keep yourself entertained (not to mention motivated!) when you can't do your normal headphones-on, tune-everything-out routine.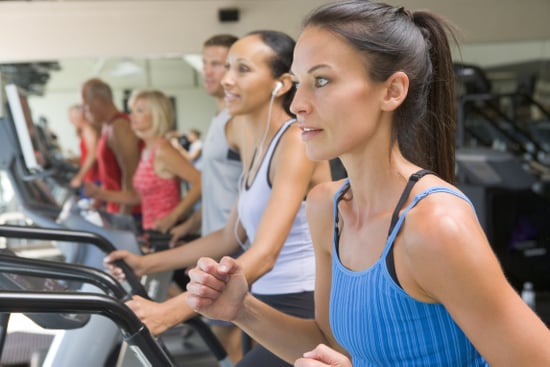 Change up your intervals: You should be doing this anyway once you've mastered your current workout, but if you're used to going through the motions, now's the time to change your intervals or the speed of your high-intensity runs.
Take a fit test: See how fast you can run in a set period — say, five minutes — without stopping (make sure you don't overdo it, though — stay at a level where you don't feel short of breath, lightheaded, or dizzy). Doing a fit test regularly is a good way to gauge your progress if you've been running regularly and if it's time to pick up the pace. Plus you may be surprised by just how fast you can really go!
Read on for more.
Race the person next to you: It's fun, as long as you don't get overtly competitive, and it often gives you that extra motivation, especially if you're feeling bored.
Pay attention to your form: It can be easy to slack when it comes to running if you're not paying attention. Assess your form and see if you can correct anything that you're noticing. Here are some tips for correcting your running form to help.
Step off the treadmill: Even if you love to run, it can't hurt to find a new machine to add to your rotation. You may find that you love cycling or rowing even more!
Do you normally listen to music or watch TV on the treadmill?