How to Build Endurance: Slow Workouts Down
Fit Tip: Slow Down to Speed Up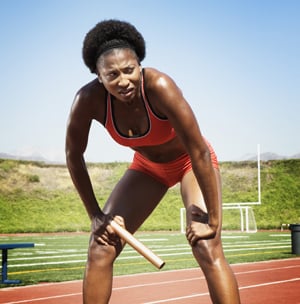 My friend (who is also a trainer) gave me a simple tip that is paying off big time: "You sometimes need to slow things down to go faster."
I've been hitting a wall with my workouts over the last few months. When I tried to increase the intensity of my workout, I'd find myself getting winded — not OK. It left me feeling puzzled, out of energy, and frustrated. I'd keep trying, but again, the same results. Shawn, the trainer/friend, suggested instead of focusing on doing a harder workout, I should work out at a slightly lower intensity, but for a longer period of time. Doing this builds up the body's endurance, which helps it take on bigger challenges over time.
It's working like a charm. Though I am not exactly where I want to be yet, I'm pretty close. I've been increasing the length of my workouts by 30 minutes, while also mixing them with small intervals of intensity. This weekend I was able to climb a route that was completely out of my reach, and I'm climbing more stairs in less time than ever before!
If you find yourself in this same predicament, slow things down for a bit and tack on a little time — sometimes taking the long way gets you there quicker.