How to Burn 150 Calories a Day by Walking
Burn 150 Calories Barely Trying With This Walking Guide
Burning tons of calories per day requires commitment, time, and sweat, but, as they say, every little bit helps. Here's how you can walk off 150 calories today so easily that you won't even realize you're doing it! Use this as a guide for your own day to gauge how many calories you're burning every day.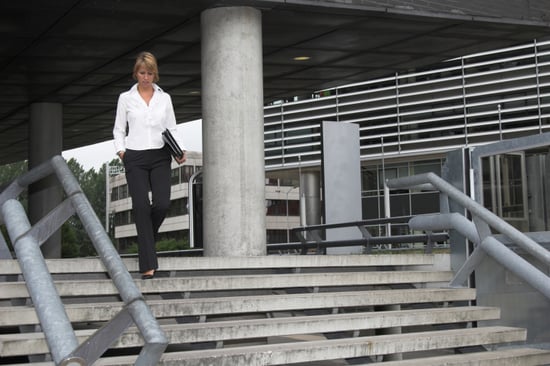 Morning commute: Even if you drive, you can fit in 10 minutes of walking time. Park your car farther from your office building's entrance, or walk around the block before you settle in for the morning. You'll burn 36 calories just from your quick and energizing morning walk.
Stairs: You don't have to run up and down the stairs Rocky-style to burn calories. Try just walking up to your office floor: in three minutes of stair walking, you'll have burned 24 calories. Do it twice a day (once at the beginning of the day and once at lunch), and you'll burn 48 calories total.
Lunch break: Don't sit at your desk the whole time you're on lunch break; take time to walk around your office or outside if it's a nice day. Five minutes of walking during lunch will burn 18 calories.
Afternoon break: Make sure you don't slide into that afternoon slump; reenergize your body by getting up and walking around your office or hall. Use this time to make a quick personal call on your cell phone while you're pacing. In four minutes, you'll burn 14 calories.
Evening commute: Walk back to your car or to the bus; you'll burn another 36 calories in 10 minutes. Total calorie count: 152. Total walking time: 35 minutes.