How to Burn Calories Fast at the Gym
4 Ways to Go Hard at the Gym
You've suited up and trekked your way to the gym, so why stop there? Make sure you don't waste time at the gym with these tips that'll keep you sweating and burning calories.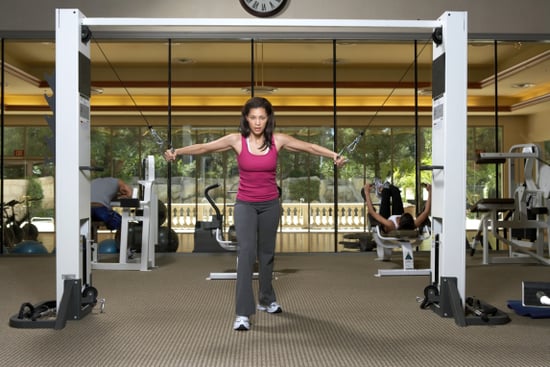 Intervals, intervals, intervals: One of the best ways to push your endurance and strength to your limits is to do high-intensity interval training, or HIIT. Not only does doing intervals burn more calories, but HIIT helps you increase your endurance as well burn belly fat — all in a shorter amount of time.
Save the gossip. A workout buddy is great for motivating you to get to the gym, but once you both are there, don't waste your time by making the hour more about catching up than burning calories. Instead, save the gossip for your post-workout refuel. Nothing like the promise of a good long chat to motivate you to finish your workout fast.
Keep reading for more ways to increase your intensity at the gym.
Pay someone to make you. Hiring a personal trainer is great not only because of their knowledge but also because of the investment; you're paying them a lot, so it's not very wallet friendly to skip a workout or phone it in. And having a trainer watching your every move keeps your form correct (so you get the maximum benefit from each exercise) and motivates you to keep going.
Become an expert on something new: Mastered the art of the incredibly inclined treadmill? If you're feeling unchallenged by the hardest settings on your go-to machine, try something new instead. Using a new machine will challenge your muscles and keep you from feeling like you are slogging through a workout instead of powering through it. Just remember to enlist the help of a trainer or a knowledgeable friend when you're entering new gym equipment territory — after all, you won't be able to reap the benefits of a new gym skill if you're sitting out because of an injury.