How to Burn More Calories on the Treadmill
Hop On the Treadmill and Burn More Calories With These Tips
When freezing temps and snow have brought your runs indoors, hitting the treadmill can be pretty redundant, causing you to hit the ever-awful workout plateau. If you want to kick it up a notch and burn more calories, then here are four easy techniques to incorporate into your next treadmill run.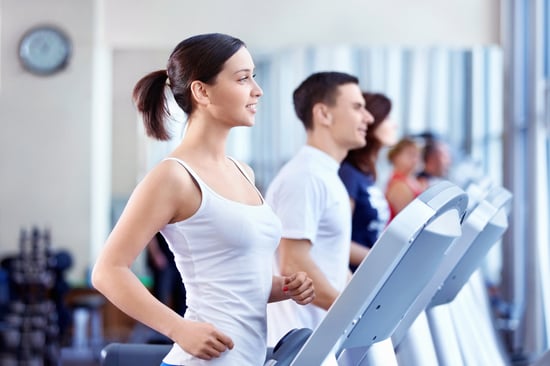 Go longer and faster: If you always run for 30 minutes at a pace of six miles per hour, it's no wonder the workout feels easy. Picking up your pace and going a little longer, even five extra minutes, will help increase your calorie burn.
Practice negative splits: If you don't have extra time to hit the gym, then try doing negative splits. It involves running the second half of a run at a faster pace than the first half. Conserving your energy in the beginning and allowing your muscles to warm up will actually help you comfortably increase your pace on the second half of your workout, so you end up with a faster time.
Go for speed intervals with incline: Altering the steepness and speed of your run is a cinch with a treadmill, since it just requires a little push of the button. Increasing the pace and incline helps burn more calories, tone the lower body, and beat boredom. Try this: alternate between running moderately for three minutes, then pump up the incline to five percent (more if you want) and the speed to a mile or two faster for one minute. You're sure to feel the burn!
Get there early: Hitting the gym in the early a.m. will help you beat the crowds, but research shows that morning exercisers also work out harder and longer than those who exercise at other times of the day.