How Carrie Underwood Stays in Shape
Get the Bod: Carrie Underwood
When we first met the lovely Carrie Underwood on American Idol, as you can see from the photo on the left, she was already slim and beautiful. But five years later, this 5-foot-3 star has really toned up, going from a size six to a teeny size two. Proud of her body, this amazing singer isn't afraid to bare all in a bikini.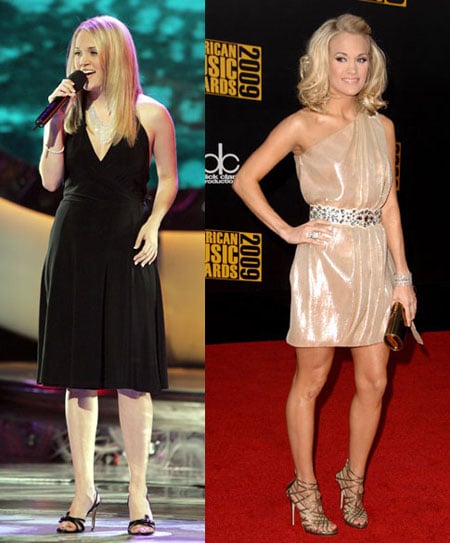 Her bod didn't come easy, though, but rather took a lot of sweat at the gym and watching her calorie intake. In a recent issue of Us Weekly, Carrie shares that she continues to hit the gym for at least 30 minutes, four to six times a week. She pumps up her heart with cardio on the treadmill or stationary bike, and then does basic, yet effective, strength training moves like push-ups, crunches, and squats. Her new personal trainer, Tony Greco, is kicking her butt, which Carrie says she needs, "especially with a tour coming up and a wedding to look good for."
To hear about this newly engaged singer's eating habits,
.
Carrie is a vegetarian, but that's not how she stays slim. Keeping a food journal helps her track her calorie consumption. Some foods you'd see in her journal are soy-based sausages and Kashi bars, but you won't see soda or many sugary foods. She doesn't eat catering, and instead chows on food from the stocked fridge she has on her bus. Carrie even brings her own groceries when she goes home to Cheotah, OK, because she says, "I have to . . . or I'll starve. Fitness is not a lifestyle [there]."
I love that this 26-year-old celeb isn't hung up about losing weight for her appearance, but rather she says, "I need to be fit and healthy to keep up with all I have to do."