How Chris Hemsworth Got in Shape For Thor: "I Put On a Lot of Weight"
How Sleep Helped Chris Hemsworth Bulk Up For Thor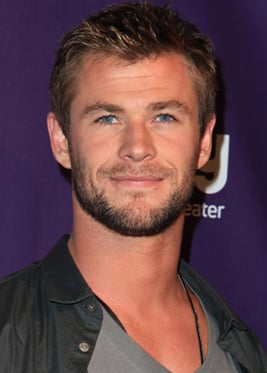 I have to give a special shout out to BuzzSugar for her awesome coverage of Comic-Con this year — I felt like I was in San Diego with her! While there, Buzz had the opportunity to interview the cast of Thor, which includes Natalie Portman and Star Trek hottie Chris Hemsworth. Chris — who plays Thor — said this about his physical transformation into the comic book hero.
"I put on a lot of weight — I put on about 20 pounds at one point. It was purely eating, eating, eating, working out and working out, trying to sleep as much as you can — that's the other third of the equation. The eating was the biggest thing; since stopping shooting I probably work out the same but don't eat as much, and I've probably lost 15 pounds or something. Chicken breasts and protein shakes, boiled chicken . . . clean meats, the right carbs. Sickly stuff."
Buffing up for a role is nothing new — Taylor Lautner packed on muscle for his role in Twilight, as did Angelina Jolie for her role in Salt. But Buzz and I both thought it was interesting that Chris cited "sleeping as much as you can" as part of his physical transformation.
To find out why sleep is important in maintaining muscle growth, read more.
Curious as to why Chris spent so much time sleeping, I called Shaun Gregg — a friend of mine who is also a certified personal trainer. Shaun explained that building muscle is more than just a combination of strength training and the right diet. Proper sleep, Shaun says, provides the body with the energy we need for future workouts. It also gives our bodies time to repair any small muscle tears. But what a lot of people don't know is that many of the body's hormones — namely the growth hormone (GH) — are at peak production when we're sleeping. Shaun says that GH is key in stimulating muscle growth, and maintaining the muscles already in our bodies. So while Chris was napping away, his muscles were becoming that of a Norse god.