How Cleaning Your Closet Can Motivate You to Work Out
Spring Clean Your Closet to Jump-Start Your Workout Routine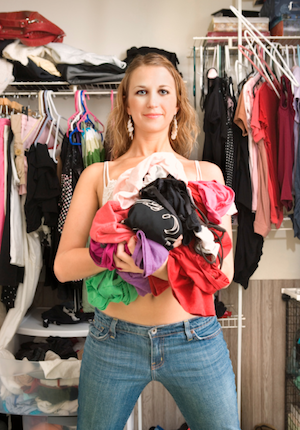 I take pride in the overall aesthetic and organization of my closet. After my relaxing morning ritual, I continue to keep stress levels to a minimum when opening my clean closet — clean being the operative word here. A messy closet can add unnecessary stress to your life and waste precious minutes of your day. And not only that, but sprucing up your closet can do wonders for your mind and body. Here's why . . .
Give away clothes that don't fit or don't make you feel good to Goodwill. By putting your closet through a mini detox session, you'll feel like a huge weight has been lifted off your shoulders. Oprah says that your home should rise up to meet you, and I feel that this extends to the closet zone as well. If your closet is stuffed to the brim with outdated shirts or dresses you know you'll never wear again — it's time to say so long. Once your closet is more airy, you'll have easy access to your wardrobe and you'll discover chic pieces you didn't even know you had! Trust me, you'll feel like a million bucks, which will translate to saying yes instead of no when your friend asks you if you want to join her in spin class.

Here are some more reasons why you should get your closet clean on.

Organization is key. When Spring cleaning your closet, rearrange items so that all of your Winter sweaters and apparel go to the back of the closet (or up on a high shelf), and move your Spring/Summer clothes to the front. Also, create a designated spot for your workout gear that's visible to the eye and is easy to access. Fold all of your workout shorts/pants/tops pretty like a real store and I promise you that each time you go to grab your fitness attire, you'll be ready in five minutes tops. This will also help you keep the eye on the prize. If each time you open your closet you see your bright, friendly workout gear staring back at you, you'll be more inclined to take a trip to the gym, rather than throw on some sweats and watch a movie.
Just like the rest of your workout gear, shoes and socks should be easily accessible. Keep your favorite socks and running shoes right where you can see them, so you can just grab them and go (or quickly change) before heading off to a fitness class.
What inspires you? Decorate your closet with sources of inspiration. Because your closet isn't on display like your bedroom, you can really run wild in terms of what you keep in it or hang on the walls. I have a few meaningful items hanging in my closet which act as sources of inspiration. Even if it's something that's silly or makes you laugh, go for it — the canvas is all yours.
Yoga mat? Tennis racket? Volleyball? Keep 'em close by. Hallelujah that I have lots of space in my closet to work with, which is why I keep all of my fitness gear in one handy corner. If you have the space, I suggest you keep everything together so you know where your swimming goggles, tennis balls, or sunglasses are before leaving the house. The less stressful the prep time, the more inclined you'll be to take part in a second session.
Once you get your closet all clean and spiffy, you can Spring clean your health, too!