How Common Is a Chocolate Allergy?
Cocoa Crisis: Allergic to Chocolate?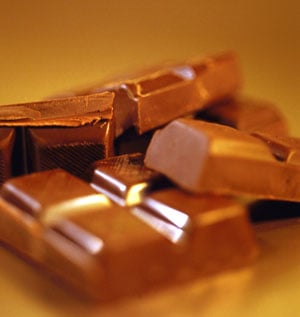 Last week, a friend invited me over for dinner to meet her new guy, and I brought some of my refreshing chocolate sorbet. When I arrived all smiles and ready to ask a million questions as any good friend would, I couldn't believe what I found out — this new beau could not have cocoa. That's right — allergic to chocolate! After hearing that, I was the one asking him a million questions.
Apparently, chocolate allergies are pretty rare. Since chocolate is made up of several ingredients including cocoa, milk, nuts, and soy lecithin, allergies can be triggered not only by cocoa, but also by one of these other ingredients. So if you do meet someone who has an allergy to chocolate, they're most likely allergic to one of these foods as well.
Symptoms of a chocolate allergy include headaches, heartburn, hives, or difficulty breathing. In severe cases, a person can go into anaphylactic shock from eating this sweet treat. It's pretty serious, and the only way to avoid issues is to pass on the triple chocolate mousse, Hershey's Kisses, and cocoa gelato.
This is so sad to me, since I am such a lover of all things chocolate. Tell me, do you know anyone with a chocolate allergy?