How to Cook Your Food Properly
Cooking Tips to Help You Avoid Food-Borne Illnesses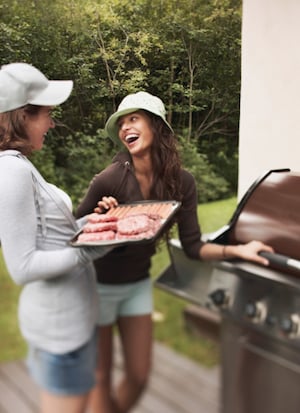 You're a whiz at keeping your kitchen clean and free from germs and bacteria, and you know the proper way to store dinner leftovers and pack them for lunches the next day, but what do you know about handling raw meats?
Before relying on your internal gauge, keep in mind that there are certain foods that must reach a specific internal temperature before consumption to prevent any exposure to food-borne pathogens like E. coli or salmonella. Aside from properly cleaning your hands, utensils, and the countertops that come in contact with any raw food, invest in a digital food thermometer.
The USDA's recommended internal temperature that each of the following food items should reach (the meat should then sit briefly before it is eaten).
Pork, beef, and lamb: 145 degrees F
Ground meat: 160 degrees F
Poultry: 165 degrees F
Although a food thermometer can be used for all foods (not just meat), it's best to get in the habit of using one. Food that has reached a safe temperature for consuming means that harmful bacteria have been killed off and destroyed. To use a food thermometer, insert it in the fat side of the meat, being careful not to touch bone since bone conducts heat faster than fat. Make sure the entire "sensor" area of the thermometer is inserted into the food (this is usually around one to two inches long), and you should have your reading within a few seconds.
And remember to store your leftovers or unused raw food items in a refrigerator that is set to below 40 degrees Fahrenheit.