How to Customize and Personalize Your Fitness Gear
Fun: Colorizing and Customizing Your Fitness Gear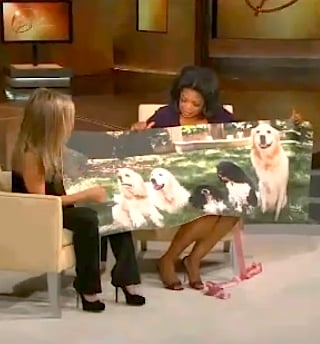 I find working out to be very personal — I'm sweating, pushing myself to my physical limits, and striving to achieve my fitness goals — which is why I like my workout gear to reflect my style and personality. As soon as I saw Jennifer Aniston present Oprah with a customized yoga mat from Yogamatics earlier this year, I knew I had to have one since I love yoga and needed a new mat anyway. But other than yoga mats, what else can you customize to your liking? Here's a rundown of some of my favorites.
DIY Running Shoes From Nike: Add a splash of color to a new pair of kicks thanks to Nike's ID customization service. Just find your favorite Nike sneaker, use their color palette to find all your favorite colors, and then personalize your shoes with a cute tag (eight characters max). Just playing around with the site and customization options is a fun experience. What are you waiting for — just do it!
See what other gear you can design to your delight.
Make Your Own Hula Hoop: Hula hooping is back with a vengeance! Hula hoops from the groovin' '70s were pretty rad, but why have one solid color when you can make your own? Here's my favorite — mixing and matching two reflective tape colors with two accenting grip colors. Gold, purple, teal, AND silver? Yes, please!
Design a Sexy New Swimsuit: If you've been searching for the perfect swimsuit for the upcoming Summer months, look no further because thanks to a company called Splish, you can choose from three suit styles, and then you can go crazy with text, graphics, colors, and prints. The suits cost between $60 and $70 depending on the fabric you choose.
Make a "Just You" Yoga Mat: As I mentioned above, Yogamatics lets you upload any photo or drawing and it will be made into a 100 percent biodegradable foam mat. Even if you don't have a particular photo you want on your mat, you can choose from a gallery full of artistic designs. Personally, I loved how Jennifer used a picture of Oprah's dogs — so sweet and sentimental!
And in case you missed it, here's the video of Jennifer presenting Oprah with her birthday gift.