How to Cut Calories and Stay Full at Lunch
3 Low-Calorie Lunch Strategies That Still Keep You Full
Sometimes, it happens: you pat yourself on the back for choosing a healthy lunch, only to be starving by the time afternoon rolls around — hello, vending machine! While your midday salad may be healthy, if it's not filling you up, chances are you'll reach for something less diet-friendly instead. Here's how to ensure you stay full and keep calories low at lunch.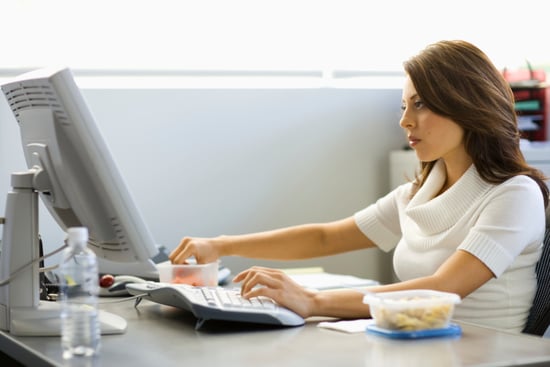 Not just any salad will do: That bowl of mixed greens may be low-calorie, but if you don't have a good mix of fiber and protein in your salad, you'll probably have a grumbling stomach in no time. When making your salad, toss in healthy toppings like beans for protein and fiber, avocado or sunflower seeds for healthy fats, and slices of fresh fruit for energizing nutrients; all of these will help keep you full without adding too many calories. Keep tabs on how much your salad is costing you, calorie-wise, with this chart of calories in common salad toppings.
Break it up: Many nutritionists recommend grazing, or eating several small meals a day instead of three large ones, as a weight-loss strategy that works. Instead of eating all your meal in one sitting, break it up in half and eat the rest in the afternoon to train yourself away from reaching for an unhealthy snack after lunch.
Eat these: Build your lunch around healthy, filling foods that suppress your appetite or digest slowly to keep you full. Toss an apple into your lunch bag, or play up the spices in your leftovers for a satisfying lunch. Check out our list of 25 filling foods for more ideas.