How to Cut Yogurt Calories
How to Cut Calories From Your Morning Bowl of Yogurt
Gently pull off the lid of a yogurt and add a topping, and you've got yourself an easy healthy breakfast. The protein in yogurt helps sustain energy throughout the morning, but if you're not careful that good-for-you bowl can turn out to be bad for your waistline. Here are some ways to save calories on this popular breakfast.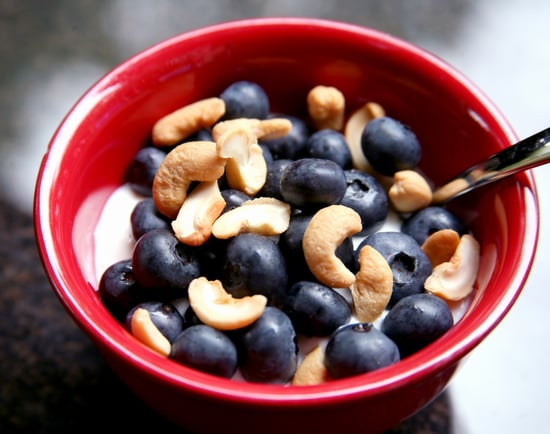 Be a plain Jane: Flavored yogurts seem healthy since they're made with real fruit, but many also contain added sugar. Choosing plain yogurt will save you 30 calories (and at least 10 grams of sugar). It might take a little time to get used to the tangy flavor, but soon enough flavored yogurts will seem too sweet. Another tip: Greek yogurt won't necessarily save you calories, but it does offer more protein, which can help ward off mindless snacking later.
Skip the sweeteners: Although natural, maple syrup and honey add about 65 calories per tablespoon.
Go fresh: Always choose fresh fruit instead of dried varieties. One cup of fresh blueberries is 84 calories and 3.6 grams of fiber, while a quarter-cup of raisins is 123 calories and just 1.5 grams of fiber.
Go nuts: Nuts increase the fiber and protein, but choose wisely. Raw cashews and pistachios have slightly fewer calories and fat than almonds, walnuts, or peanuts.
Cereal swap: Granola and yogurt go together like PB&J, but if you read the label of your favorite bag you'll see a small serving is high in both calories and fat, and doesn't offer a ton of fiber. Instead of topping your yogurt with those sweetened oats, opt for one of these high-fiber cereals.
Measure: Buying yogurt in large tubs will save you money, but if you just eyeball a six-ounce serving, chances are you'll end up with more. Grab the measuring cups to help you spoon out appropriate serving sizes of yogurt, and all your add-ons including fresh fruit, nuts, and cereal. Use a smaller bowl instead of a larger one to prevent you from adding a little extra to fill the space.