How Dancing Is Great For Fitness
Fitness Lessons From My Dancing Days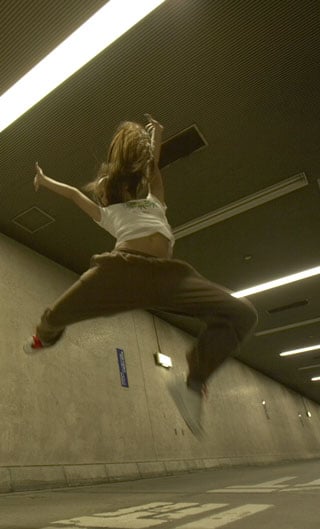 Like almost every young girl, I loved ballet class. Unlike the majority of my peers, I didn't quit ballet in junior high but added the sparkle fingers of jazz and the barefoot freedom of modern to my class load. And I kept on dancing through college and my 20s — I earned money for rehearsing and performing and got to tour abroad — not a full-fledged professional, but sweet perks for doing what I loved. I learned some things on the way, too; unsurprisingly, many transfer to my fitness life today. Here's just a handful of life lessons from my dancing days.
Stand tall: After countless hours spent at the ballet barre followed by a decade of teaching Pilates, good posture has been drilled into me. My elongated spine keeps my back happy sitting or standing, and posture is one less technical detail to worry about when running. I think good posture is a confidence booster in any situation.
A good warmup is a good thing: Before you leap you have to plié, if you don't want to tear any muscles or freak out your tendons. Dance classes begin by warming up the body to prime muscles and joints for bigger, bolder movements later in class. This lesson applies to all my workouts — I even like to warm up before yoga. Appropriate warmups are the foundation of a good workout.
Soft landings make for happy knees: I spent countless hours learning how to catch air, but also how to land those jumps like a cat. No one likes to hear a dancer thud after a leap. This controlled motion of landing toe to heel, rather than flat footed, helps protect the knee — and knees need all the help they can get.
Ice is your friend: I had my fair share of injuries from Achilles tendinitis to dislocating my shoulder, and a few black eyes

to boot

. In all these situations, ice was my savior alleviating pain and decreasing swelling. It helped me through both acute and chronic injuries. Icing is not one of my favorite activities, but it sure does pay off. WNBA legend Lisa Leslie agrees with me and credits regular icing sessions for the longevity of her career on the court.
It's easier to stay is shape, then get into shape: When you're rehearsing for a show, you take class. When you're performing, you take class. When you're in between shows, you take class. Keeping consistent is the key to improving (and just maintaining) your form, technique, and endurance, for any physical activity from dancing to running. Once you get out of shape, the climb back to your peak form can be daunting, so maintain what you got. Use it, or lose it.
Dancing is a great way to get fit and stay fit, from Zumba to hip hop.