How to Do 30 Push-Ups
Try It: 30 Push-Ups
One of my goals for 2010 is to be able to do 30 push-ups — the difficult kind with your knees off the floor. Push-ups are one of the most effective exercises to strengthen and tone your upper body, and as of now, I can probably do about 12 with good form, but I want to push that number to 30. Are you up for trying out this challenge along with me?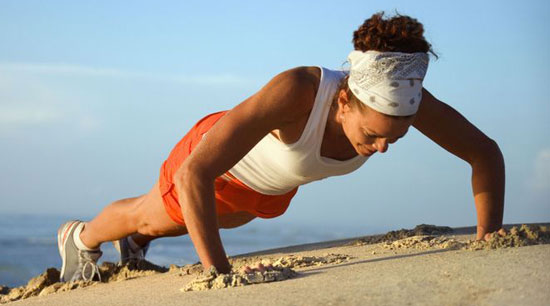 If so, you can hear the plan to make it happen when you read more.
First you need to know how many regular push-ups you can do right now. So get on the floor, do as many push-ups as you can with straight legs, and write down that number in your fitness journal. Then set a goal for how many you want to be able to do. My number is 30, but yours may be 10 or 50.
In order to increase that number, you need to build your upper body strength every day. Choose a time when your muscles aren't tired (after a cardio kickboxing class would not be a good time), and complete as many push-ups as you can with your knees off the floor. When you start to lose form or your arms can't take it anymore, lower one or both knees to the ground and continue doing knee push-ups until you reach the number you've set as your goal.
Keep this up every day, and gradually, one push-up at a time, you'll be able to increase the number of straight leg push-ups until you complete the challenge.
Good luck and be sure to keep me posted on your progress.