How to Do Barre Chair Pose
Thigh Burner: Sit in Chair, Minus the Barre
Chair is that move you love to hate in your barre class. It burns, you shake, and it tones your thighs like none other. Since this exercise requires a barre for balance, trying it at home can be just a bit of a challenge. Here's a way you can set it up in house to either prepare you for your first barre class or throw into your schedule between classes.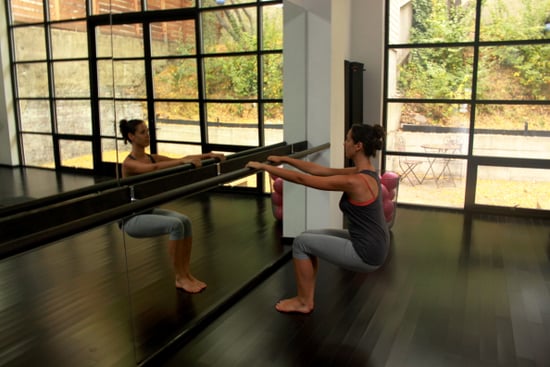 Start with your back flat against a wall. As you slide your back down, walk your feet out together until your knees hit a 90-degree angle. Make sure your ankles fall directly below your knees and your thighs sit parallel to the floor. Once you're there, press your arms against the wall behind you for support and try to hold the position. One-minute holds are recommended for beginners and two-minute holds for the more advanced. You can repeat this three times with stretching in between.

See a more advanced variation of this chair exercise after the break!
Once you master this position with flat feet, add a relevé into the mix by lifting up your heels. You can do the same one- to two-minute holds. Alternate between flat and lifted heels with quick breaks in between each one so as not to put stress on your ankles. You can complete three of each hold and increase your burn by taking longer holds in your flat heel pose.

Photographed at Pop Physique in San Francisco, CA