How to Do Beginner's Gate Yoga Pose
Strike a Yoga Pose: Beginner's Gate
I really appreciate the meditative nature of this seated pose. Not only does it calm my mind, but my hips crave the internal rotation offered by the position of the bent leg; moving the hip joint in this way makes for healthy hips and knees. This variation of Gate offers benefits to the joints by moving them in a direction we don't often do, similar to Hero pose, but this beginner Gate is easier for yoga newbies. Beginner's Gate also provides a gentle stretch for the inner thighs (aka adductors) and hamstrings, making it great for runners and cyclists.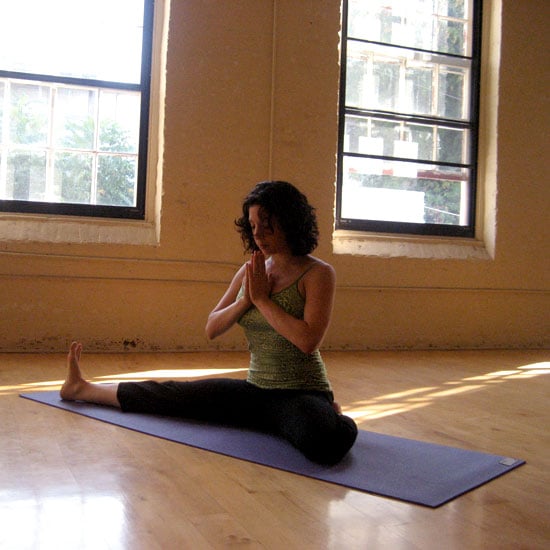 Sanskrit Name: Parighasana
English Translation: Cross Beam of a Gate Pose
Also Called: Gate
Learn the finer details of the pose when you read more.
Sit on your mat and open your right leg out to the side.
Bend your left knee, bringing your left toes behind you and as close to your body as possible. If you can, press the arch of your foot against the curve of your bum.
Very Important: If your left knee is in any pain, straighten out your left leg and bend your knee in the opposite direction with your left foot in toward your right inner thigh.
Press your hands together in front of your heart. Relax your shoulder blades down your back away from your ears. Ground firmly with your pelvis, and if you can, try to tuck it in slightly using your lower abs. Soften your lower ribs so they are not poking forward. Concentrate on lengthening through your spine.
Stay here for five or more breaths, and then switch sides.