How to Do Eagle Pose
Strike a Yoga Pose: Eagle
Many people take up yoga as a way to relax, reduce stress, and bring a sense of inner calmness. For me, balancing poses are the most effective at reducing the stresses of life because they require so much attention and focus that I'm forced to forget about everything else. Staying in the pose and not falling requires all your effort and concentration. Once you release the pose, you feel an amazing wave of relief and contentment. This particular balancing pose is also great for stretching out your calves, ankles, hips, and upper back.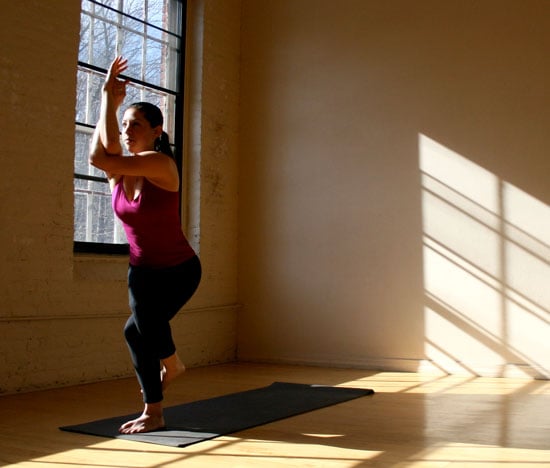 Sanskrit Name: Garudasana
English Translation: Eagle Pose

Begin standing tall in Mountain pose.
Shift all your weight into your left foot, and lift your right knee up toward your chest.
Cross your right knee in front of your left knee, and bend both knees slightly, trying to wrap your right toes around the back of your left calf.
Keeping your drishti (gaze) on one point in front of you, cross your right elbow over your left elbow. Work on bringing your left fingertips toward the base of your right palm, and then lift your elbows straight up toward the ceiling.
Stay here for five breaths, release, and then do the other side.