How to Do a Fartlek Workout
Running Workout: Fartlek Speed Play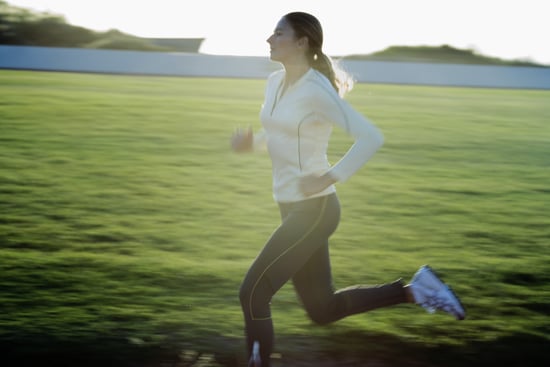 Interval training is a great way to torch calories and improve your fitness level, but you don't need to be beholden to your stopwatch when doing speed work. You can add a dash of play to your sprints with a fartlek workout. Fartlek is the Swedish term for speed play, which just means changing your speed for varying distances while out on a run. How could a word that sounds so silly not be fun to put into practice?
This variation of interval training is perfect for urban areas since you can use different landmarks — like bus stops, benches, or the length of a city block — to set the distance of your sprints. Pick a spot ahead of you and increase your speed as you run toward it. Simple no? Keep reading for a sample workout after the break.
| Activity | Duration | Details/Recovery Time |
| --- | --- | --- |
| Warmup | 3 minutes | Brisk walk |
| Warmup | 5 minutes | Jog |
| Easy speed* | 5x 1 minute | 1 minute recover** |
| 5x sprints | 1 block length | 1 block length recover |
| 4x short sprints | 20 seconds | 1 minute recover |
| Cooldown | 5 minutes | Jog |
| Cooldown | 3 minutes | Brisk walk |
*Easy speed is not a full sprint, but running at a fairly quick pace
**Recover means jog, so your heart rate can slow down
This workout is simply a rough guide: you can create your own plan using the landscape of your neighborhood to keep track of distances for sprints. Run at an accelerated pace to a streetlight, then do a full-out sprint to the corner, and recover by jogging past three more streetlights. It's kind of like playing Candy Land when you were a kid, but now you get to make up all the rules.