How to Do a Plank With a Kick
No Equipment Necessary: Elbow Plank With Donkey Kick
The next time you go to do an elbow plank, kick it into high gear — literally — with this elbow plank variation. Adding a donkey kick to a basic plank requires extra strength, as it will challenge your core while toning your booty and hamstring. Here's how: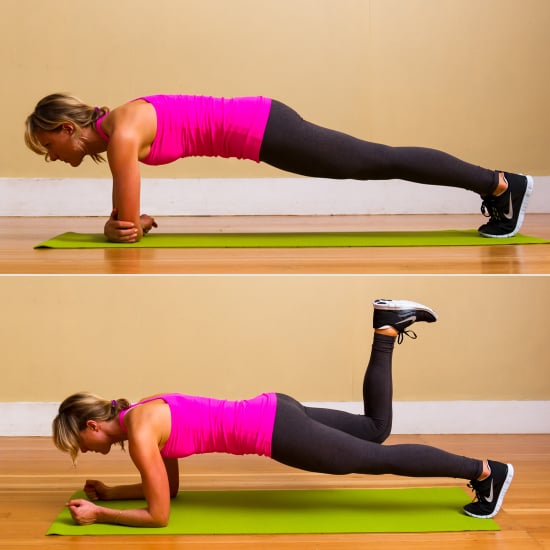 Begin in an elbow plank with elbows directly under shoulders, abs engaged toward the spine. Don't let the pelvis sag down or pop up.
Lift right leg off the ground, bending your knee so the sole of your foot is toward the ceiling. Keep pelvis square to the floor. Don't let your pelvis twist.
Press your right heel toward the ceiling as high as you can without moving your pelvis or lower back. The motion will not be huge but rather concentrated on the booty and hamstring.
Lower the bent leg slightly, and repeat for a total of eight to 10 repetitions. Then switch sides.
Do two sets on each leg.
Consider holding Downward Facing Dog for five long breaths between sets.