How to Do Side Crow Pose
The Trick For Getting Into Side Crow
This Cirque du Soleil yoga pose may look out of your league, but with a little trick under your capris, you too can master this bold and beautiful arm balance. It's all in your approach, so follow these step-by-step moves and you'll be Side-Crowing it in no time.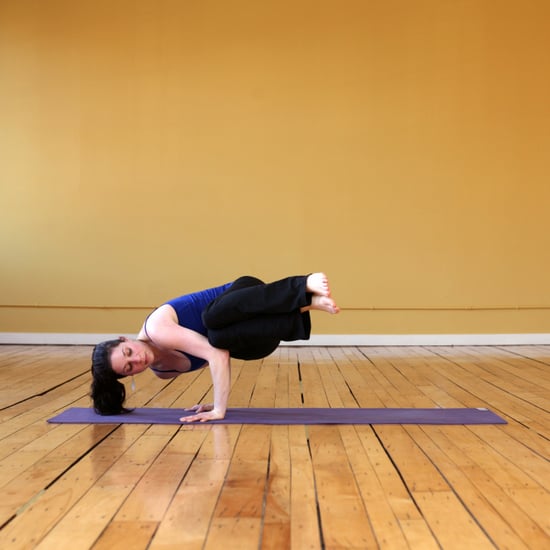 Most people get into this pose from a Wide Squat position, but here's the trick: start in a Seated Twist with your right knee up and your left heel pulled in close to your right hip. Bend your left elbow and press it firmly against your outer right thigh, twisting to the right.
After five breaths, keep your upper body twisting to the right as you press your right elbow into the top of your outer right thigh, just below the hip.
Tip your torso down toward the ground, planting your palms on the floor. Your right foot will lift up, but your knees will remain crossed. Make sure to spread the fingers wide and shift weight forward into your fingertips to take pressure off your wrists.
Lean the weight of your outer right thigh into your elbows, thinking of your arms as the legs of a table and your thigh as the tabletop. Slowly lift your left foot off the floor, uncrossing your legs, stacking your left knee on top of your right, and balancing on your palms in Side Crow.
Get strong in the pose, lifting both feet high so your calves are parallel to the floor. Gaze at your toes, holding for five breaths, and then gently release your feet to the floor. Repeat Seated Twist and Side Crow on the left side.
After mastering Side Crow, here's a yoga sequence to help you do two advanced variations called Straight Legs Side Crow and Scissor Legs Side Crow.