How to Do a Standing Overhead Press With Dumbbells
Get Lifted: How to Do an Overhead Press Correctly
Yes, it's almost tank top and bikini season, which means that bare arms will be the norm for the months ahead. If you want to sculpt shapely shoulders and toned arms, learn how to incorporate the overhead press into your workout routine.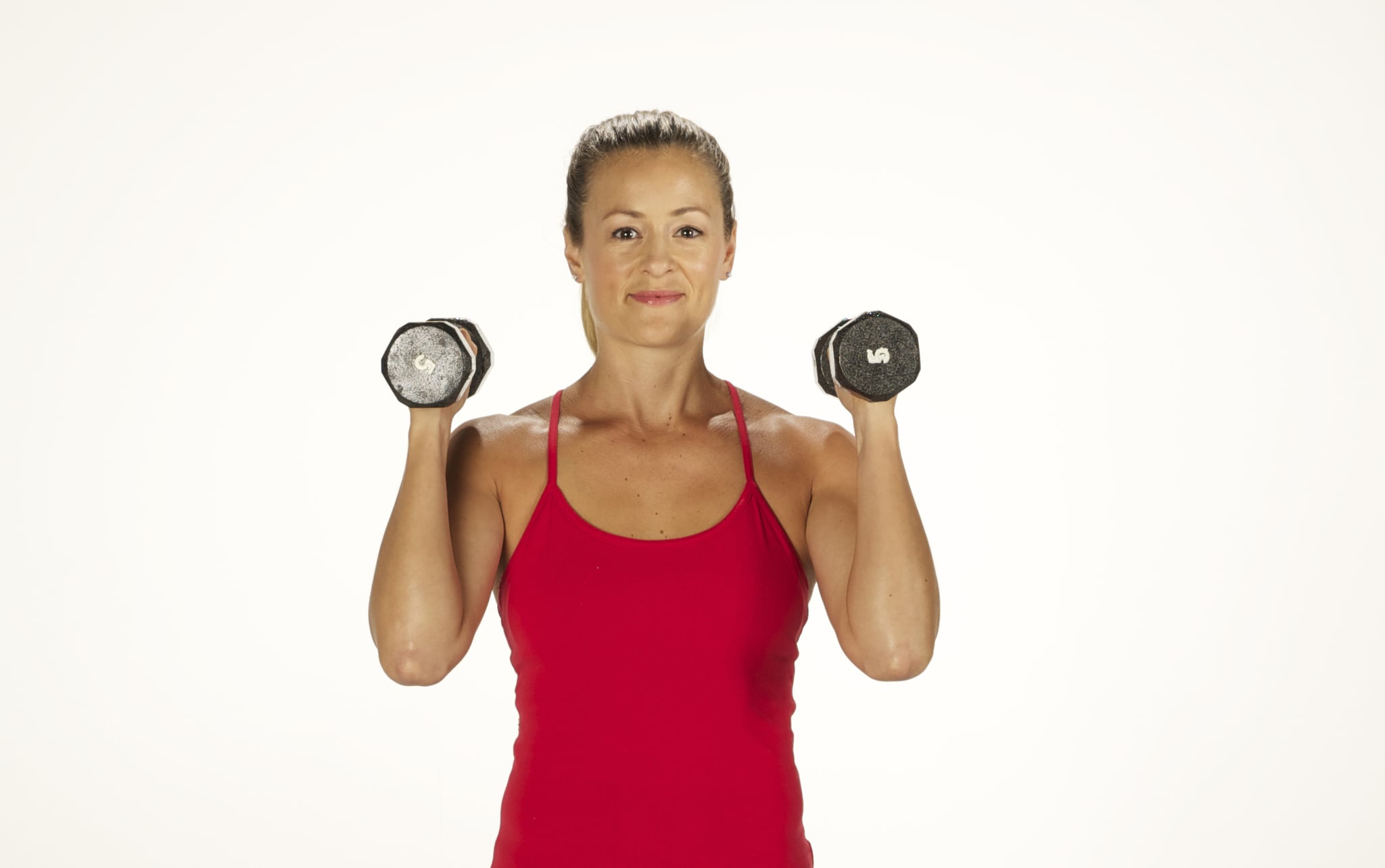 Proper form: You can do an overhead press using dumbbells, barbells, or resistance bands. The following are tips on how to do a standing overhead press using dumbbells; for more advanced tips on how to do an overhead press using a barbell, check out the American Council on Exercise's recommendations on how to do a standing barbell press.
Start with two dumbbells at a weight you can safely lift over your head for eight to 12 reps (err on the safe side and start with lighter weights until you know which weight is right for you for this exercise).
Stand with your feet hip-distance apart and pick up the weights, holding the dumbbells so your palms are face down. Lift up your weights until they are at your shoulders, palms facing forward, with elbows bent at a 90-degree angle.
Raise your arms until elbows are extended, moving weights until they almost touch above your head (see picture below).
Slowly return back to starting position (with elbows at a 90-degree angle).
Repeat for eight to 12 reps, making sure you keep your form correct.
Remember to breathe and keep your spine neutral and core engaged while you perform this exercise. Also, don't hunch your shoulders while you raise and lower your weights.
Standing up while you complete your overhead press works more of your body since you have to keep your core engaged, but if you find that standing is too hard, try doing the exercise while sitting on a chair or weight bench.
Multitasking variations: Don't just stand there — just a few simple tweaks to the standard overhead press can help you tone even more muscles at the same time. Try one of these multitasking moves below:
Want even more arm-sculpting moves? Try our 10-minute tank top video workout here.
Image Source: POPSUGAR Photography