How to Do Upward Facing Dog Pose
Strike a Yoga Pose: Upward Facing Dog
Just about as common as Downward Facing Dog, Upward Facing Dog pose, or Up Dog as I like to call it, not only elongates and increases flexibility in your spine, but it's a great pose for opening your chest, throat, shoulders, and the front of your thighs. When doing this pose, try not to tense your glutes or crunch your lower back. If it hurts your wrists to have so much weight in your palms, make sure to activate your fingertips rather than putting all your weight into the heels of your palms.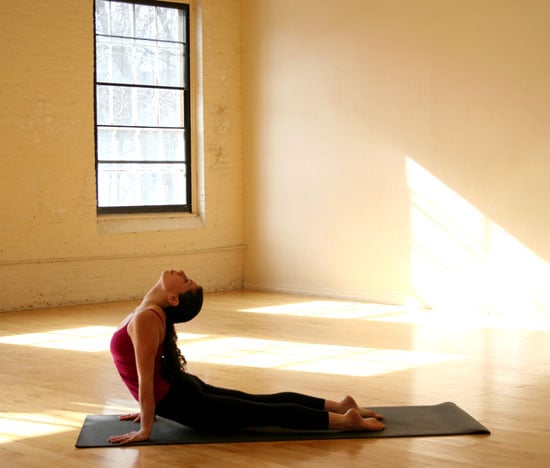 Sanskrit Name: Urdhva Mukha Svanasana
English Translation: Upward Facing Dog Pose

Keep reading to find out how to get into Upward Facing Dog.
Begin at the front of your mat in Mountain pose. Inhale to lift your arms up and gaze toward your palms. As you exhale, dive out, lengthening your spine as you fold forward, coming into a Standing Forward Bend with palms pressed firmly next to your feet.

Inhale and look up with a flat back, and as you exhale, step or jump your feet back and bend your elbows, lowering with control into 4-Limbed Staff pose.

As you inhale a breath, scoop your chest forward, balancing on the tops of your feet and your hands, coming into Upward Facing Dog. If it's too much on your lower back, rest your hips and thighs on the mat. If it feels comfortable, lower your head back between your shoulder blades. Roll your shoulders open and actively release them down away from your ears, stretching through your chest and throat. Hold for five breaths.