How Do You Bake Gluten-Free?
Must-Have Ingredients For Gluten-Free Baking
Whether you're gluten-free for health reasons or personal preference, you might have thought you had to kiss all desserts goodbye. Fortunately, there are ways around baking without the gluten, although it can be a difficult feat to exclude this sticky little ingredient; baking without gluten can sometimes leave desserts crumbling apart. Fear not! Here are four pantry must haves to replace wheat flour; use individually or combine for a close second to the real thing. Plus, we have a couple hints that will make g-free baking a walk in the park.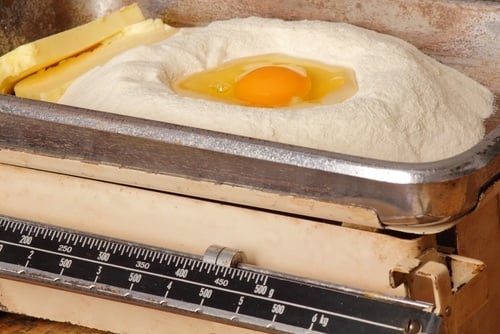 You might need to tweak your recipe slightly when shifting gears from your gluten-ous menu. You can combine some of these ingredients to decrease the density of your final product.
Flour Substitutes
Grains: Flours made from grains most resemble traditional wheat flour and are best used when baking cakes and breads. On this safe list are brown or white rice flour, sorghum flour, millet, and teff. Or try a gluten-free all-purpose flour like Bob's Red Mill, which contains a mixture of these flours. The label on Bob's Red Mill g-free flour provides helpful tips for mixing in starches.
Starches: Even though we don't often use starches when baking at home, you can add one or two of these options to a gluten-free flour in order to make a faux-gluten consistency. Potato starch, cornstarch, arrowroot, and tapioca starch are all g-free substitutions.
Non-Grains: These nut "flours" are great for adding substance. They can boost the protein content of your dish twice as much as other flours do. Just keep in mind that they will also increase the density. Peanut, almond, hazelnut, soybean, garbanzo bean, fava bean, and chickpea flours are all void of the grain product completely. They are, however, slightly more difficult to compress, so make sure to use an additional binding agent when baking with these ingredients.
Oats: This seemingly innocent grain creates a tricky situation. While some people with celiac disease, the gluten intolerance allergy, can digest oats, others cannot. Oats and wheat are often grown together and processed in the same facility, so oats can pick up traces of gluten. Some smaller companies are now exclusively producing oats to offer guaranteed gluten-free oats; if you do have celiac, make sure to read the labels.
Keep reading to learn about binding agents.
Bindings
When baking without gluten, which provides elasticity to baked goods, it's good to add "binding" agents to simulate the gluten. Here are three options to help a dish hold form and provide the desired doughiness.
Xanthan Gum: As foreign-sounding as this ingredient may seem, xanthan gum is a savior to sad-looking gluten-free desserts. It adds volume and viscosity often lacking in GF dishes. Below are the portion suggestions for xanthan gum straight from Bob's Red Mill Gluten-Free All-Purpose Flour.

Per one cup of flour:
1/4 teaspoon for cookies
1/2 teaspoon for cakes
3/4 teaspoon for muffins and quick breads
1-1/2 teaspoons for bread
2 teaspoons for pizza crust

Eggs: For a more familiar food known for its binding qualities, try eggs. If you aren't vegan, then these natural delectables might be your new best friend! Eggs help ingredients stick together while providing added protein. Use one or two extra, depending on the size of your dish. You can also use egg whites for a lower fat content.
Chocolate: For a more indulgent option, add chocolate. Melted chocolate, once it cools, has the ability to bind gluten-free flours. A warning to the chocoholic: these extra calories can easily creep up, so use your sweet chips in moderation.