How Does Olympic Gymnastics Team Final Scoring Work?
How Is the Olympic Gymnastics Team Final Scored?
Gymnastics never fails to be a crowd-pleaser — watching dedicated athletes jump and contort their way around the arena is awe-inspiring and exhilarating all in one. Yesterday's men's gymnastics team final was no different. The competition saw Great Britain win bronze, which for a moment turned into silver as a member of Japan's second-placed team made an egregious mistake on the very last apparatus of the night. However, after Japan's coach contested the judge's decision, the scoring was later recalculated, and Japan was reinstated as the silver medal winners. With all the drama surrounding the men's gymnastics race to the top and the women's gymnastics team final airing tonight, we've got you covered so you understand what's going on. Here's how the gymnastics team finals are scored.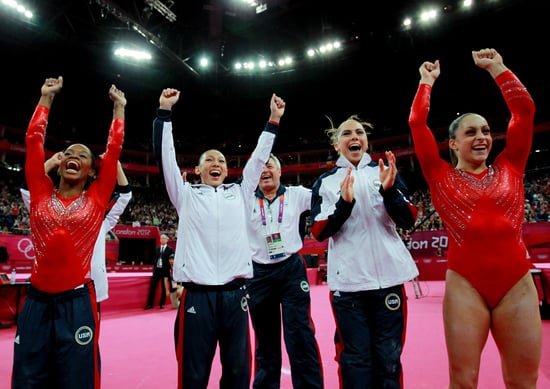 In the team gymnastics competition, the eight countries who advanced from preliminary competitions are allowed to send three athletes for each apparatus. There are six apparatuses total for men: the pommel horse, parallel bars, vault, floor routine, rings, and horizontal bar; one gymnast can compete on multiple apparatuses. Each athlete's performance is scored based on difficulty and execution, and scores are added up per country and the team with the highest total score after these 18 scores wins gold.
Read on for more on gymnastics team final scoring, who competed on what in the women's final, and how the US women's gymnastics team fared!
Now it's the women's turn; scoring is the same as in the men's sport, but the women compete on four different apparatuses (floor routine, uneven bars, beam, and vault) instead of six, a total of 12 scores for each country. For the US, Gabby Douglas competed in all four events, while Jordyn Wieber competed in all events except the balance beam. Aly Raisman represented the team in floor and beam. McKayla Maroney competed in vault, and Kyla Ross competed on uneven bars and beam.
Going into the final, the US women's team was favored to win, and they didn't disappoint. The event (which is airing tonight in the United States) took place this afternoon in London, and the US women's gymnastics team won gold, the first time Team USA has placed first since 1996.
Next up after team finals is the individual all-around final (check out how gymnasts are chosen to compete for the individual all-around final here), and lastly gymnasts will compete for individual medals on each apparatus; the top eight gymnasts from each country (maximum two gymnasts per country per apparatus) are allowed to compete in these events.