How to Eat Healthy Dinners During the Week
4 Ways to Make Weeknight Dinners Healthier
Breakfast may be the most important meal of the day, but many times, dinner is the most celebrated. If your excitement for dinner leads to overly decadent, big-portioned meals, here are a few tips for making a healthy dinner during the week.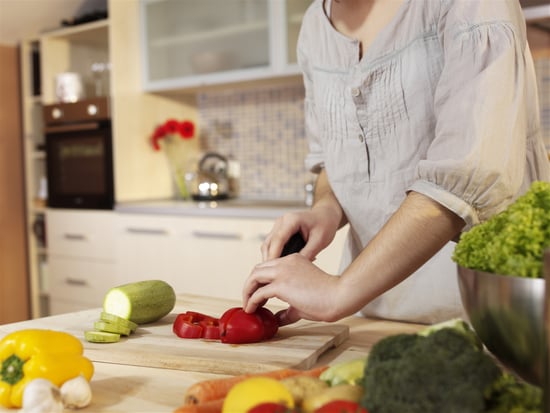 Prep things for a quick meal: The time it takes to cook a healthy meal can be less than the time it takes to get takeout, but if you haven't prepped yet, it can be hard to summon the motivation when there is shopping (and chopping!) to do. Spend a few minutes at the beginning of the week pulling healthy recipes, planning your dinners, and prepping veggies, so that when it comes down to the wire, a quick healthy meal is only minutes away.
Eat a smaller meal: That overly stuffed feeling never feels good, but it's especially bad a few hours before bed! Instead of ravenously loading up your plate, tell yourself you can eat something small after dinner if you get hungry before bedtime, and then try one of these delicious, filling, low-calorie snacks.
Opt for veggies: Loading up on carbs is good if you need energy early on in your day, but if you're winding down for the evening, too many carbs can lead to a blood-sugar spike — and then crash. Instead of spooning up a mountain of mashed potatoes, make room for a fresh, nutritious salad. Any one of these rainbow-bright vegetarian salads, for example, will keep your taste buds happy and your stomach filled.
Put away leftovers: If the leftovers are calling you from the kitchen, make a habit to box up remaining food before you sit down for dinner. You'll be less encouraged to pick at food every time you pass by the stove — plus, you'll be able to use them for lunch the next day.