How to Eat Healthy at Happy Hour
How to Eat Healthy During Happy Hour
There's nothing like happy hour to take you from work to revelry at the end of the week. But if you are staying healthy during the week, you don't want to undermine all you've done with a greasy start to the evening.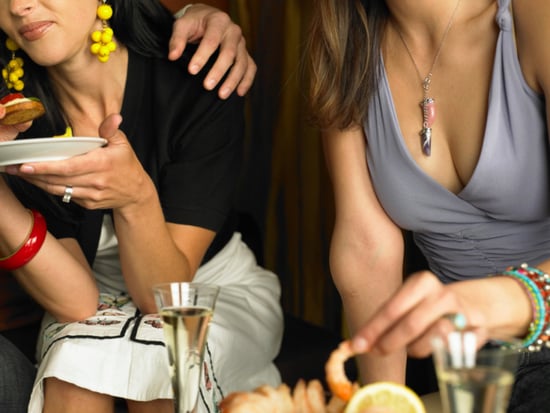 Luckily, there are ways to keep your social time relatively healthy, whether it's alternating alcoholic drinks with water, choosing a lower calorie drink, or eating smart off the happy hour menu. Here are some suggestions of common appetizers that aren't loaded with calories.
Choose hummus instead of butter. Nothing satiates hunger quite like a plate of warm bread, so if you are craving the carbs, go for a hummus spread instead of butter. Not only will you save calories and fat (36 calories and 4.1 g of fat in a pat of butter vs. 26 calories and 1.3 g of fat in a tablespoon of hummus), but you'll also be getting the nutrition from the healthy beans.
Pick the right seafood. Jonesing for something from the ocean? Stay away from fried baskets of calamari (350 calories per serving) and order a shrimp cocktail (120 calories) or raw oysters (about 10 calories each) with lemon juice or a dash of mignonette sauce instead.
Read more about healthier menu options after the break.
Snack attack. If you want something to nibble on, don't be tempted by the fries. Instead, choose finger foods like edamame, which gives you that hit of salt without the calories and fat (about 100 calories and 3 g of fat in a 1/2 cup of edamame vs. 427 calories and 22.8 g of fat in a medium serving of fries).
Manage your meat. If you must have a burger, try ordering sliders instead; they are offered on many happy hour menus and you can easily portion control (by splitting the order with your friends or only ordering one slider). If appetizers like chicken satay are on the menu, order the sauce on the side; you could save up to 131 calories, for example, by ordering the satay peanut sauce as a dip instead of already smothering those grilled chicken skewers.
Supplement with a salad. Many happy hour menus have a salad option, but if not the salad offerings in the normal appetizer menu will probably be a comparable price. Ordering a small salad means you can still snack on the foods you want while keeping yourself from overindulging.
What's your happy hour food plan?