How to Eat Healthy at Restaurants
Weekend Warrior Tip: Do Your Restaurant Research
An occasional restaurant indulgence is necessary for continued and sustainable weight-loss success. But when you're on a weekend trip or you've booked multiple dinners with friends on back-to-back nights, sticking to a healthy game plan can be a struggle. The good news is some of your best defense comes from just minutes of research. With so many menus available online today, there's no reason not to check out options ahead of time on your computer or phone.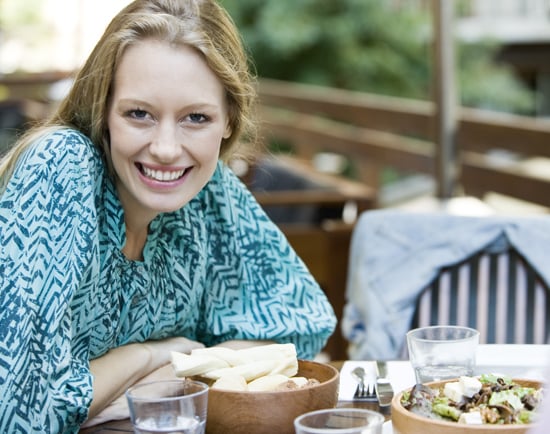 Sure, you love the thrill of reading a menu for the first time once you're seated, but Chef Cheryl Forberg, RD and nutritionist to the contestants of The Biggest Loser, insists that there are already enough temptations out there you have no control over. When you make a reservation with friends, it should be a healthy, informed restaurant choice that doesn't leave you stressed. You should "be confident that there are healthy choices available" ready to serve your healthy needs, Cheryl explains.
Keep reading for what to do once you're at the restaurant.
Checking out the menu ahead of time is a start, but the real test comes when it's time to order. If you're worried that you'll change your mind last minute, then don't even open the menu when you've been seated. All those cream-based dishes and heavy, fried foods are tough to say no to once, let alone twice. Indulging your cravings in moderation is fine, but there's no need to chow down on a supersize portion of food that will leave you sick. If you're really jonesing for a taste of something, then ask for a half portion, or split a side among everyone at the table.
It can be tough to speak up, but don't shy away from asking for a substitution or a switch to make your dish healthier. Even something as small as omitting the butter from toast, opting for dressing on the side of a salad, or subbing in roasted veggies instead of a french fries can make a huge difference at the end of a meal. If you're worried about coming across as impolite, then just say everything with a smile and positive attitude. Nine times out of 10, you'll find that the kitchen is happy to make a quick and healthy substitution.