How Eating Lunch Helps You Lose Weight
How a Lunch Box Can Help You Lose Weight
If your day is all about deadlines, meetings, and squeezing in a workout, it's no wonder you barely have time to hit the bathroom, let alone sit down to eat lunch. But what you eat for your midday meal can play a huge role in whether you reach your weight-loss goals. Here are some ways that innocent little lunch box of yours can help you fit into that polka-dot bikini by Summer.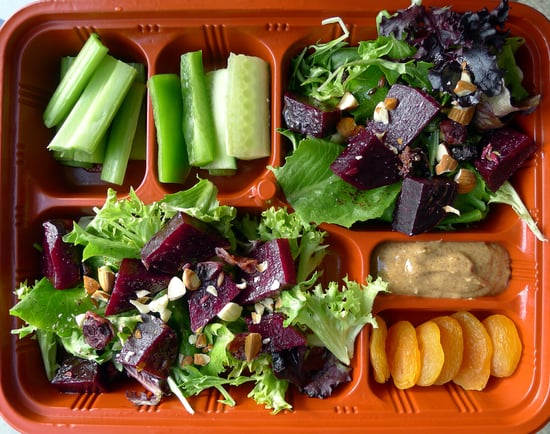 No more skipped lunches: Sounds simple enough, but many women skip lunch thinking they'll lose weight faster. Unfortunately, this isn't the case; skipping meals slows down metabolism, resulting in fewer calories burned. Having a healthy lunch waiting for you means there's no excuse to ever skip this midday meal. Need some ideas? Pack these vegetarian sandwiches or one of these delicious low-calorie soups.
No more hidden calories: It's fun to go out to lunch every once in a while, but restaurant food tends to be high in calories. Packing a lunch from home means you aren't forced to hit the local café and order a who-knows-how-many-calories-are-in-that soup and sandwich. You also won't be tempted by the high-calorie desserts on the counter calling your name. Instead, you'll know exactly what went into that homemade meal of yours.
Portion control: When you pack a lunch, you're in charge of how big it is and how many calories you consume. Using cute storage containers like these BPA-free ones can help encourage you to pack smaller portions of your favorites to keep calories in check. Be sure to choose high-fiber foods to keep you feeling full for longer.
More energy: Eating a nutritious lunch packed with protein and complex carbs maintains blood sugar levels. So say goodbye to that afternoon slump that makes you crave a sugary pick-me-up, and say hello to the crazy amount of energy you'll have to hit a 300-calorie-burning workout after work.
Source: Flickr User trupastilla