How Not to Be Embarrassed in the Weight Room
Learn to Love the Weight Room With These Tips
Are you a fan of your gym's weight room? While some people love it, others are either too intimidated or embarrassed to exercise alongside those six-pack-sporting gym goers who seem to have it all under control. But being scared of the weight room is no reason to stay away. Here are four ways you can get over your apprehension and learn to love working out with weights at the gym.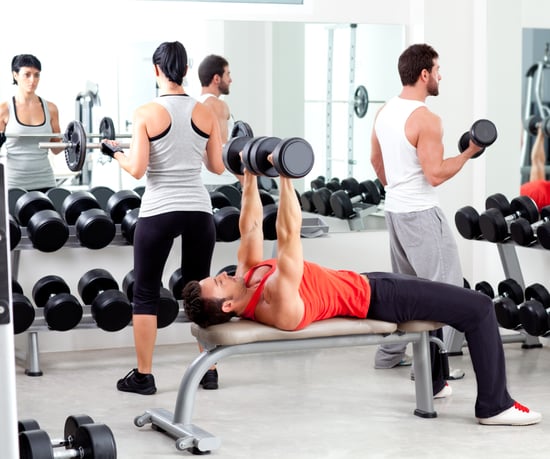 Go with a friend: If you're intimidated by the weight room, bringing your workout buddy with you can help you feel more comfortable. Plus, your buddy can help spot any form issues or teach you new exercises, and it can be fun to learn exercises together if she's also new to weight training.
Ask someone for help: Feeling embarrassed often comes from feeling like you don't know what you're doing, so arm yourself with knowledge before you hit the weight room (it's also important so you don't injure yourself). Ask someone who works at the gym to help show you around so you can ask them any questions. Sign up for a personal-training session to increase your confidence, making you even more comfortable in the weight room. If you do, make sure that you ask questions along the way to fully understand the exercises your trainer is teaching you so you can replicate them on your own time.
Keep reading for more tips.
Know what you want to do: The key to getting in and getting out without feeling lost is to have a plan before you get there. Which muscles will you be working on? Do you need a bench? Which size weights are you using? How many reps of each will you do? Figure out what your workout will be before you go; try this total-body circuit workout with weights to start.
Tune everyone out: In the end, there's no reason to care what people think in the weight room. Even if you're worried what the completely ripped guy next to you thinks of your simple bicep curls, it can help to remember this: no one is really noticing what you are doing. Just like you, your fellow gym goers are there to pay attention to their own performance, not to people watch; fill your iPod with your favorite exercise playlists, grab your workout plan, and focus on your own moves.
Have you ever felt embarrassed in the weight room? How did you get over it?