How to Enjoy Marathon Training
How to Cross the Marathon Finish Line With a Smile on Your Face
Trainer Paul Vincent has helped many actresses prepare to kick ass on the big screen at his Santa Monica gym, Training Adventures, but he's also into fitness for life. A seasoned Ironman triathlete, Paul has also paced more than a few starlets in their inaugural marathons. And these gals have been smiling as they glided across the finish line — a noble goal for any first timer.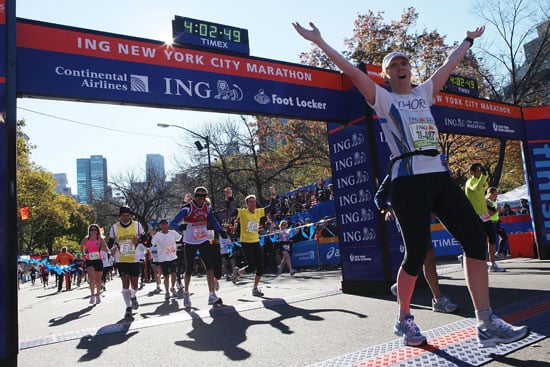 But let's not get ahead of ourselves — let's start at the beginning. Paul recommends being comfortable running 15 miles weekly before embarking on your marathon training. Not wanting to deter any running enthusiast, he adds that starting with a base mileage of zero means "you will need a little bit longer to build up that first phase" of whatever program you choose to follow. Be smart and don't jump into high-mileage weeks quickly!
Regardless of your training schedule, enjoying the experience is the most important thing you can do for a successful finish. "This may sound silly but for first timers, it is easy to get lost in counting miles, researching routes, preparing training day snacks, and everything else that goes into training," says Paul. "Sometimes you need to sit back to really understand what you have taken on and how incredible that is." He adds that the training is part of the journey, so enjoy the solitude of your long runs and the order training to tackle such a long distance can bring to your life.
Learn Paul's three main tips and advice on injury prevention when you keep on reading.
When pressed for specific tips, Paul remains a little metaphysical. Training plans are often about the numbers (mileage, minutes, pace, etc.), but his simple advice is easy to put into practice, especially when you look at the big picture. Here are his three main tips for surviving your training:
Perspective: "Relax, don't stress if you miss a run here or there. You will be fine," Paul assures nervous newbies.
Chill out, literally: For injury prevention, be proactive. Paul says, "Take an ice bath every now and then." This helps bring down possible damaging inflammation in overworked muscles and joints.
Team up: "Create a support system, whether it is a training partner or spouse, who will drop by on your long runs and cheer you on."
While building mileage, new runners should be aware of overuse injuries and how faulty running patterns can contribute to the problem. Paul explains, "If something is not quite in alignment, or not quite working right, and you load it with training," the compromised area "gets to a point where it cannot handle the added stress, and the result is pain." Listen to your body. If you catch these problems early, correcting your form could provide an easy fix. And luckily, Paul believes that "apart from having a specialist check your alignment, you can do a lot yourself." Take care of these trouble zones by doing "myofacial release with a foam roll, stretch, then ice that area; that alone will prevent many injuries." A little self care can go a long way when you're going the distance.
If you're a veteran of racing 26.2, share your advice for having fun while building the mileage needed to finish the race happy.