How to Exercise at Home With DVDs
How to Work Out With Fitness DVDs (and Make It Count!)
If used right, fitness DVDs can be a convenient and cost-effective way to stay in shape and introduce yourself to new exercises — but first you have to avoid distractions! From the clutter to your cell phone, there are several reasons why the gym may seem more appealing than your living room. But if you're looking to avoid the crowded gym (especially around the first of the year) or simply find that a home workout fits better into your budget and schedule, then consider these tips for getting the most from a DVD workout . . . and then press play!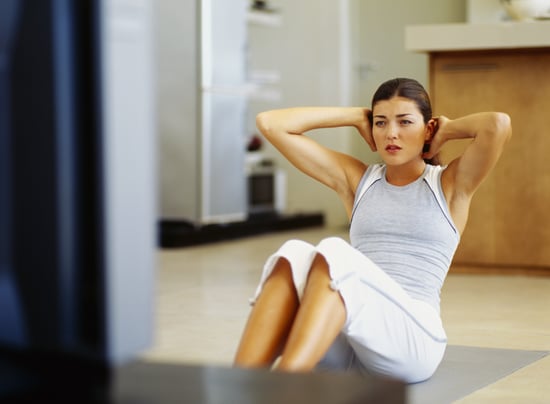 Remove distractions: To get the most from your workout, it is important that you have a space free from clutter and distractions. Because most fitness DVDs are designed for your living room, you don't need a fancy home gym, but you do need to make sure there is space to move. Remove the clutter, and push smaller furniture out of the way. Put technology like your cell phone and computer in another room to avoid disruptions and temptation.
Wear workout gear: Although you are working out from home, still dress as if you are heading to the gym. This will help put you in the right mindset and keep you comfortable. Although it may seem efficient to stay in your pajamas, baggy clothes can be distracting, and your fuzzy socks may be a bit slippery . . .
Designate a time: Treat a home workout as any other instructor-led class by designating a set time. Setting aside a specific time in your schedule will hold you accountable and keep you on track.
Switch it up: Don't get stuck in a boring rut by doing the same workout over and over again. Although consistency will help you improve and see results, it is sometimes good to mix things up. Picking from a variety of DVDs will add more moves to your skill set, keep you attentive, and tone your entire body.
Keep reading for more tips!
Sweat with a friend: Invite your family, roommates, and neighbors to join in on the fun. A workout buddy adds friendly competition and will keep things fresh. A partner can also help you with form and posture so you don't have to focus on the TV as much.
Use DVDs as a starting point: Like with anything in life, variety is key. Use fitness DVDs as one of the many ways you choose to exercise. They are a great starting point to introduce you to new exercises and are a cost-effective complement to your other workouts like a spin class or run.