How Fast Should I Pedal When Biking
Bike On: How to Find Your Ideal RPM
May is National Bike Month, and we hope you're planning on pedaling. And when cruising on two wheels, to protect your knees and prevent leg fatigue while cycling, you need to pay attention to your pedaling speed! You calculate your pedaling speed through rpms — the revolutions per minute of your pedals.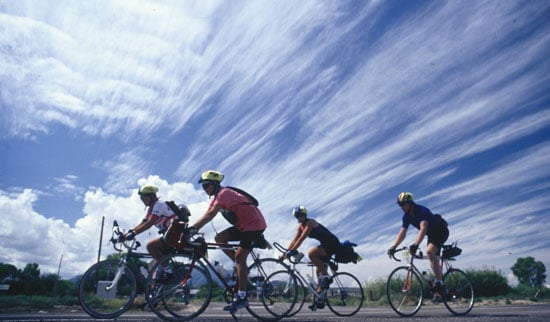 The magic number is 80 rpms. Between 60 to 80 rpms is considered ideal for your knees, but most of the pro cyclists bump the number up and try to stick between 80 and 110 revolutions. So the magic number is really a range; for speed and joint safety, aim to keep your rpms between 60 and 110. Essentially, you don't want to put on a heavy, heavy gear and pedal slowly — this unduly stresses the knee joint.
To figure out your rpms, count how many times your right leg comes to the top of the pedal stroke during a 15-second period, then multiply your count by four. That number will be your revolutions per minute. Timing yourself, counting, and doing multiplication while biking can be a bit challenging, but you'll get the hang of it. You could also skip the math and invest in a cycling computer that measures cadence like this one from CatEye ($50). If you have a cycling computer that you love, share the details in the comments below.