How to Feel Better Right Now
Postweekend Survival: 9 Quick Ways to Feel Better Right Now
Did your healthy plans get away from you this weekend? Here are nine things you can do, right now, to feel better postindulgence.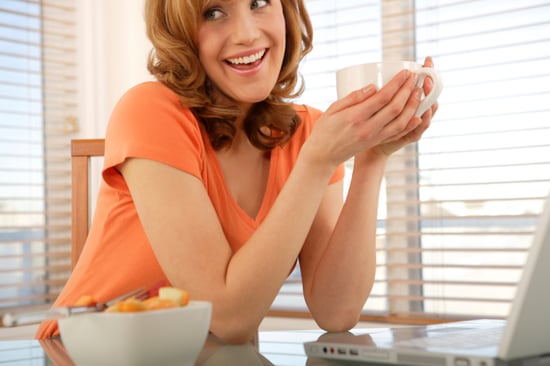 Stretch for a minute: Whether you're waking up or at your desk, a short stretching session will make you feel more energized and awake. Try these neck-and-shoulder stretches to relieve tension.
Go for a walk: Park a little farther from your office building or visit a coworker instead of emailing them. If you 're feeling sluggish and bloated from the weekend, moving as much as possible today will help you feel better.
Detox at breakfast: Need to detox? Make one of our detoxing breakfast recipes to feel better fast.
Drink lots of water: Here's a reminder to take a drink — then go refill your water bottle. Drinking lots of water helps you feel less fatigued and flushes out toxins, so keep rehydrating all day long today.
Swap your coffee for green tea: Coffee has a lot of health benefits, but if you need a pick-me-up that'll also help you detox, order a green tea instead of your usual latte.
Make a workout schedule: Didn't meet your workout goals this weekend? Now's the time to set yourself up for success this week. Add your workouts to your calendar so you'll be less apt to blow them off for an impromptu happy hour.
Stay away from the junk: Feeling better is all about eating clean, so try to calm cravings by staying away from all the junk you ate on the weekend today. Stick with fresh fruit, salads, and whole foods through dinner to end the day on a high note.
Take the stairs: Raising your heart rate fills your body with oxygen and can energize you when you're feeling lethargic. Take a five-minute break and use your office's stairs instead of the elevator to go outside.
Lay off the guilt: Rehashing everything you did will only lead to stress, which can distract you from your healthy goals this week. Focus on all the healthy things you already did (or will do) today and congratulate yourself for getting back on track!