How to Feel Energized After Lunch
5 Ways to Get Energized During a Lunch Break
Lunchtime can be crucial for resetting your focus to avoid that midafternoon slump. What you do around the noon hour can change the rest of your day for good — even if you skipped breakfast or showed up late to work. Try to make the most of your time with one (or all) of these helpful tips and see if it makes a difference in your work.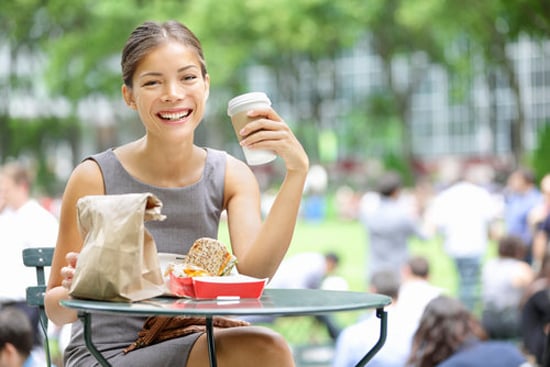 Get moving: You don't need to run the stairs in your office attire to increase your heart rate. If you can't squeeze in a lunchtime workout, doing something a little less exerting like walking to your lunch spot instead of going to the deli downstairs can give you that extra kick you need. If you bring your lunch to work — well, kudos to you! Use the extra time to walk somewhere for a beverage or find a place to eat your homemade meal instead of having it at your desk, which can lead to mindless eating.
Eat energizing foods: Instead of fats and heavy carbs that can weigh you down, look for a healthy lunch that can pick you up. Lean protein like chicken, salmon, and hard-boiled eggs is a must for lunch because you're doing most of your productivity during the day. Pair it with fresh fruits or vegetables to bring you back to your office chair feeling satisfied and awake.
Breathe fresh air: Getting out of your workplace can change your energy on its own, so going outdoors and getting a gust of wind in your lungs is even more energizing. If you're at work, it's not likely that you'll walk into a serene landscape once you open the doors, but even in the middle of a bustling city, you can find peace in open air.
See more ways to energize during your lunch hour after the break!
Engage: Greeting complete strangers and making eye contact can help you stay present, but not everyone is that brave. Take the time to chat with your co-workers or make a call to a close relative you enjoy catching up with. This can help reset your mind and make you come back to your work with a better attitude and more energy.
Refuel: Look forward to something you can bring back to your desk, like tea. Just because your lunch break is over doesn't mean you can't bring (or make at the office) something to keep that good momentum going. Antioxidant-packed green tea can be energizing and temperature-controlled depending on the taste you crave.