How to Find a Good Yoga Teacher
An Easy Way to Find a Yoga Teacher You Love
The right yoga teacher can be your catalyst for personal change. But if you're brand-new to the world of yoga, it can be hard to know where to seek out an amazing teacher. Take these tips to heart as you search for a student-teacher match — your guru isn't far off.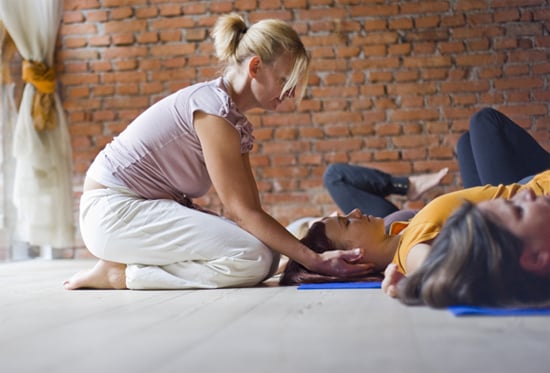 Ask around: To learn about the best instructors in your area, you need to research. Reach out via social media, ask your coworkers, and look up reviews online. This isn't a foolproof method to find a teacher that you'll connect with, but it offers a jumping off point to see of who's teaching in your area.
Don't be blinded: Big names (and bigger reputations) might lure you into class, but if you're not digging someone's teaching style, don't feel pressured to keep on attending. Just like a romantic relationship, you shouldn't feel like you have to force it! There will absolutely be parts of the class where you're physically uncomfortable, but you will know if someone's personality, attitude, or approach isn't meshing with what you're looking for. Stay persistent and keep trying new people!
Start with the studio: You might get lucky and find "the" teacher right away, but chances are, it will take some time. If no one in your area is receiving rave reviews, look for a studio that appeals to you. Whether it offers a yoga style that suits your personality, classes that are conducive to your schedule, or even just the general vibe that makes you feel at peace, a beautiful and calming studio will probably be home to a teacher you enjoy taking class with.
Have you found a teacher that might be the one? Great news! Keep reading for the final tip.
Keep showing face: Once you find a class and teacher you connect with, it's your job to build upon the relationship. Ask the teacher a quick question when everyone is rolling up their mats, or if you're feeling shy, just offer a quick "thanks for the class" as you head out. Once you attend a class regularly for a few weeks, the teacher will naturally take notice and offer more hands-on instruction. Even better, they might even shout out advice specific to your practice in a full class!