How to Find a Workout Partner
Tips For Finding an Exercise Buddy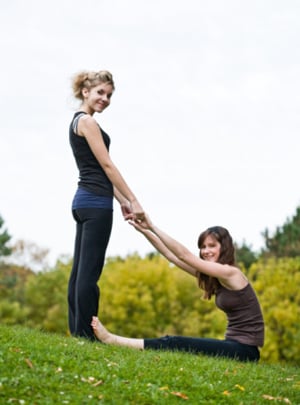 Even though many of you prefer to work out alone, having a workout buddy is a great way to stay motivated. And since ditching out on a workout means you're flaking on someone else, an exercise buddy is a great way to keep you accountable. It's also like having your own personal cheering squad. Encouraging words are often all it takes to push a fitness routine further or try harder. If you want a workout buddy but don't know how to find one, follow these tips. It won't be long before you're hitting the trail with a comrade in arms!
Meet someone in a fitness class. Familiarity has a way of making people feel comfortable, so it won't seem odd if you strike up a conversation with someone you see regularly in class. I used to go to the same yoga class every week and eventually became friends with a classmate. In no time, we were sharing rides to the studio and dinner afterwards.
Join an exercise group. Most cities have running and cycling groups — guaranteed ways to meet people who like exercising with other folks. A simple Internet search should help you find a group, or, as an alternative, check with your local sports store. The sports stores in my areas host free weekly exercise events that include running, cycling, and yoga.
Sign up for a partnered sport or group lessons. Some sports — like rock climbing — lend themselves to finding a partner because you can't do the sport without one. You can use Internet forums to find a partner, or go to a specialized gym where they'll help you. If you're new to the sport sign up for group lessons. You'll meet other people who want to learn the same activity as you, and who are also on the same skill level.
Once you've found yourself a partner, make sure you make the most of it, and don't feel like you have to limit yourself to one person. The more exercise buddies, the merrier!